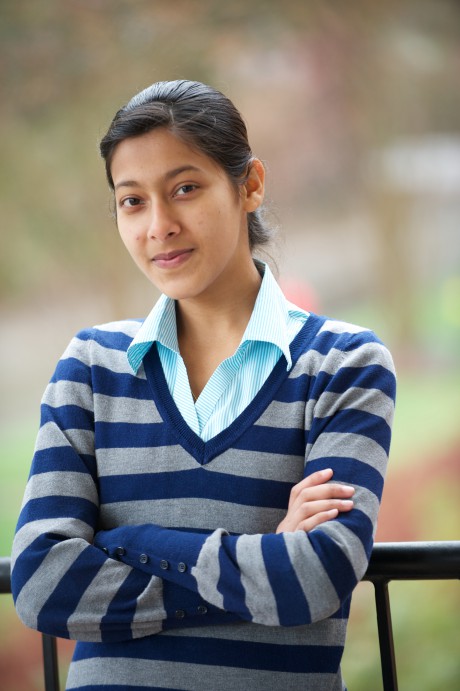 The transition from high school to college is one of the biggest changes in any young adult's life. Students are living away from home for the first time, making new friends, and acclimating to a world different from the friendly confines of mom and dad. But, for someone like Parijat Bhattacharjee '16, the move from high school to Stonehill has been a more drastic transition than most.

A rising sophomore, Bhattacharjee, is from Agartala, a city in North-east India where the Congregation of Holy Cross has two secondary schools. Her introduction to Stonehill came through the College's Extension India, an 11-month cultural service program that allows young alumni to teach in the Holy Cross schools there. Stonehill alumni have been teaching at Bhattacharjee's high school since 2009 and Indian students have been coming to Stonehill since 2010. When opportunity knocked for Bhattacharjee in 2012, she was hesitant at first. Her parents wanted her to stay in India for schooling, but after she applied they changed their minds.

"I got a call early in the morning from Fr. Paul Pinto, my former vice principal in high school, telling me I got the scholarship and I was so excited," Bhattacharjee said. "Change is a part of life and I knew it was something I had to go through. Knowing the four students here (at Stonehill) helped me in the transition, but it was still a big challenge."

As a part of the Extension India Program, four Indian students have received scholarships to attend Stonehill, with two more students arriving next fall as members of the Class of 2017.

After hearing about her acceptance, Bhattacharjee finally arrived in the United States on July 17, 2012 touching down in New York City before traveling to Stonehill. Immediately, she began to become immersed in American culture, while noticing the distinct differences between the U.S. and India.
"I had seen pictures of Donahue Hall online and on postcards and when I finally arrived on campus, it was more beautiful than I ever imagined. Once I started interacting with the students at Stonehill, I saw how friendly everyone was. I didn't understand why everyone would say hi to me or hold the door open all the time. That took some time getting used to, and even though everyone is so busy, they're still so nice," Bhattacharjee said.

While at Stonehill, the communication major continues to make herself known around campus, getting involved in different clubs like the Asian American Society and DiverCity. In the annual DiverCity performance, she was an integral part of one of the night's most well-received acts.
"One of the best moments, for me, was seeing her dancing on stage at the DiverCity Festival in the Bollywood group - she was outstanding," said Director of Intercultural Affairs Liza Talusan.
Along with her involvement in clubs, Bhattacharjee also works at two different jobs on campus. One of those jobs is at the office of Intercultural Affairs, where she works with Talusan and Janice McGovern, answering phone calls and working on merit point statements. In her home culture, working while still enrolled in school is rare, and something her parents weren't able to grasp at first.

"My parents asked 'Why are you working?' In India, most people over the age of 18 either work full time or go to school, not a combination of the two. So when I told my parents that I found a job, they wanted me to focus more on my studies and not work, but I really enjoy what I do there and it helped to make my transition easier," Bhattacharjee said. She also works for Sodexo dining services at campus events as well.
"Parijat fit right in to the culture and community at Stonehill without any transition issues at all," said Talusan. "When she is in our office, she gives advice to other first year students, quickly made friends with many upperclass students, and has made quite a name for herself already on campus."

Easton is over 7,500 miles away from her home in Agartala, but the welcoming community on Stonehill's campus has eased the transition for Bhattacharjee.

"The students here are really friendly. Everyone is always saying hi or hello even if they are really busy. I can tell that everyone is generally interested in knowing how I am," Bhattacharjee said. "My professors have been really helpful too. I go after class to talk with them if I didn't understand it, but we often just talk too. Being so far away, it really means a lot to me," she added.

As the students prepare for final exams, Bhattacharjee can think about going home in May for the summer, and telling her Indian friends and family all about her first year in America, and as a freshman at Stonehill.
"I think I'm more responsible now than before I came. When I decided to come to Stonehill my parents and friends were telling me that I could come home if I didn't like it, but when I came here and started classes and meeting new people I knew that wasn't going to happen. Not everybody gets a chance like this, and I wanted to make the most out of my opportunity in America and at Stonehill."
-by Tim Culverhouse '14