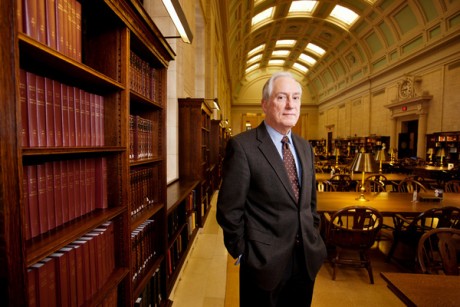 Famed scholar and librarian Robert Darnton, the Carl H. Pforzheimer University Professor and University Librarian at Harvard, will be the featured guest at Stonehill's Salameno Lecture on Thursday, March 27th. The title of the talk will be: "Digitize, Democratize: The Future of Libraries," in which Darnton will discuss how libraries must adapt in today's digital world. The event, scheduled to begin at 4 p.m., is free and open to the public.
He has written extensively on the major litigation involving the Google Books Library Project,
and he was one of the leading figures in the founding of the Digital Public Library of America (DPLA), the first public online-only library in America. The DPLA, which was launched in April of last year, brings together the holdings of America's libraries, archives, and museums, and makes them freely available to the world.
After a brief stint as a reporter for The New York Times, Darnton began his long-standing career in education when he became a junior fellow in the Society of Fellows at Harvard. He then went on to teach at Princeton from 1968 until 2007 when he returned to Harvard.
Darnton has written and edited several books, including The Business of Enlightenment: A Publishing History of the Encyclopédie (1979) and The Great Cat Massacre and Other Episodes in French Cultural History (1984).
His latest books are The Case for Books (2009), The Devil in the Holy Water, or The Art of Slander in France from Louis XIV to Napoleon (2009), and Poetry and the Police: Communication Networks in Eighteenth-Century Paris (2010).
Among his honors are a MacArthur Prize Fellowship, a National Book Critics Circle Award, election to the French Legion of Honor, the National Humanities Medal conferred by President Obama in February 2012, and the Del Duca World Prize in the Humanities awarded by the Institut de France in 2013.
In addition to his scholarly work, Darnton is a trustee of the New York Public Library.
About the Salameno Lecture
The Salameno Lecture Series in History was created through the generosity of trustees Lawrence and Theresa Salameno, who sponsored the first endowed chair in the College's history. The Salameno's generosity allows Stonehill to bring some of the country's foremost scholars to campus.