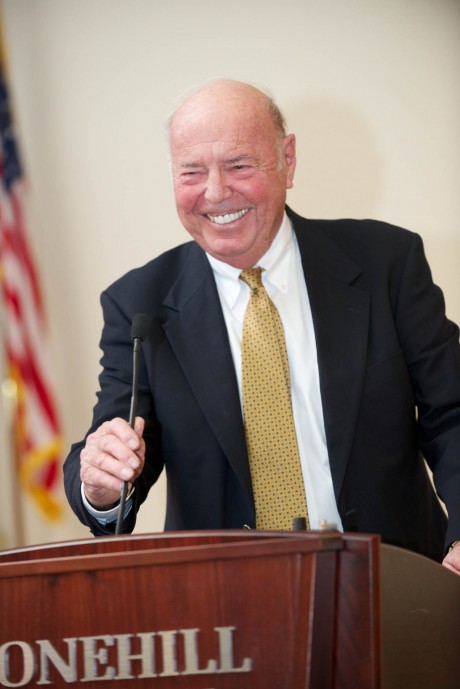 Long-time alumni volunteer Richard Schiffmann '54 received the 2013 Alumni Service Award at the annual Alumni Volunteer Appreciation Dinner on Sunday, November 24. Over the years, he has served the College's Alumni Association in a number of ways, including six years as chairman of the Alumni Council Awards Committee.
As chair of that committee he oversaw the selection of the Outstanding Alumnus Award and the Alumni Service Award, finding new ways for the Council to identify and honor stellar alumni. The Council now also sponsors a Young Alumni Achievement Award.
"Without fanfare or fuss, you have devoted countless hours promoting our vibrant alumni tradition. Inevitably, your contributions as an alumni volunteer and representative have been both substantial and effective," said Stonehill President John Denning, C.S.C. in reading Schiffmann's award citation.
In accepting the award, Schiffmann reflected back on his time as a student at Stonehill, recalling studying with his classmates on the veranda in front of Donahue Hall, one of just three building on campus at that time. "We looked out into the open fields in front of Donahue Hall and saw fields of dreams. Now those dreams have become a reality."
"Dick's service has been a model of alumni engagement. He has shown not just what one alumnus can accomplish but also how to engage many other alumni in the process. That's why his fellow alumni hold him in such high regard," said Director of Alumni Affairs Anne (Pollick) Sant '88.
A practicing attorney, Schiffmann and his wife Jean have owned and operated Bayview Real Estate in Barnstable, Mass. since 1983.
The Alumni Service Award is presented annually by the Alumni Council to recognize graduates who have worked for the betterment of the College and the Alumni Association. In conjunction with the award, the Office of Alumni Affairs holds the Alumni Volunteer Appreciation Dinner each November along with the Alumni Mass of Thanksgiving.