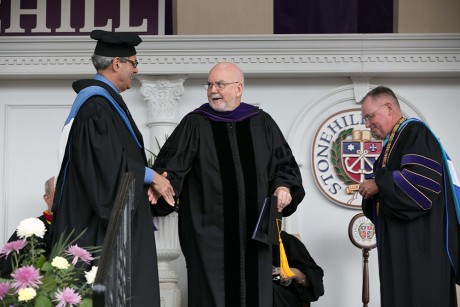 As the former president of King's College and former Provincial Superior of the United States Province of the Congregation of Holy Cross, you have led by example. From your days as a young priest working in an inner-city parish in Brooklyn, New York, to devoting a sabbatical to assisting the Congregation of Holy Cross in Chile and in Rome, as well as in Lourdes as chaplain to English-speaking pilgrims, you have humbly reached out to those who need God's love.
Your lifelong commitment to education inspires our community. You have taught at Notre Dame College (Dhaka) in Bangladesh, where you also assisted in relief work with Mother Teresa's Missionaries of Charity, and at the Philosophical Center of Jinja in Uganda. You joined the faculty of King's College, your alma mater, in 1988 and became the school's eighth president in 1999, serving until 2011. Following your sabbatical, you returned to King's College to work with at-risk students.
As a leader in the Congregation of the Holy Cross and a former Stonehill trustee, you share a special bond with our community. You have extended your hand and your wisdom as a mentor, confidant, and trusted friend. You have demonstrated a deep commitment to our mission of developing the moral, spiritual, intellectual, and social competencies of our students.
For your lifetime devotion to the teachings of the Gospel, and your expression of God's mercy and justice through your ministry, we are proud to bestow upon you, Rev. Thomas J. O'Hara, honoris causa, the degree of Doctor of Theology.