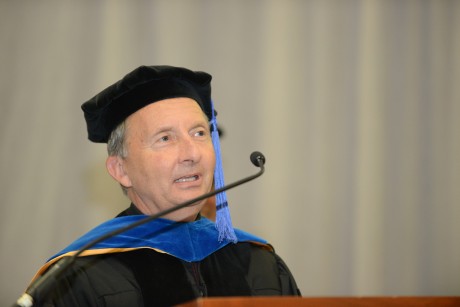 Rev. Richard Gribble, C.S.C., professor of Religious Studies, was named the recipient of the 2013 Louise F. Hegarty Award for Excellence in Teaching . The surprise announcement came during the College's Presidential Inauguration and Convocation ceremony on Friday, Sept. 20.
The award is given annually to a full-time faculty member whose teaching has had a marked influence on the lives of Stonehill students. Fr. Gribble began teaching at the College in 1995. He has written over 20 books on American church history and spirituality. In addition to teaching, he is actively involved with local parish ministries as well as campus activities such as the Team Faculty Advisor and Community Associate Programs.
Stonehill President Rev. John Denning, C.S.C. praised Fr. Gribble in his inaugural address to the Stonehill community.
"Fr. Gribble embodies the charism of the Congregation of Holy Cross. An educator in the faith, he is a gifted and talented teacher, a diligent and tireless researcher and scholar. He is also a man who gives generously of himself outside the classroom," said President Denning.
"It truly is a well-deserved recognition of Fr. Gribble's commitment to Catholic higher education, our students and the mission of Stonehill College," he added.
Citing statements made by students who nominated Fr. Gribble, Provost and Vice President for Academic Affairs Joseph Favazza, who presented the award, said "(He) always encourages his students to try their best, and he makes the classroom a warm and welcoming place."
Another student said, "Fr. Gribble is always exceptionally prepared for class and willing to go above and beyond the expectations of a professor."