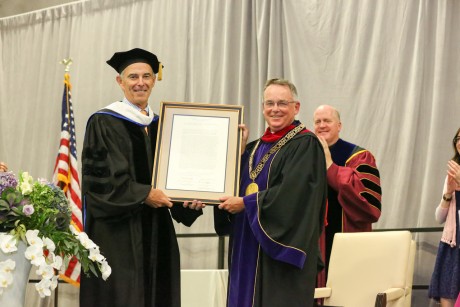 The Presidential Inauguration for Rev. John F. Denning, C.S.C., the tenth President of Stonehill, was held today, Friday, September 20th in the College's Sports Complex. The event was held in conjunction with academic convocation where members of the Class of 2017 received their first-year pins and members of the Class of 2014 received their senior pins. The recipient of this year's Louise F. Hegarty Award for Excellence in Teaching, Rev. Richard Gribble, C.S.C., was also announced.
In addition to Stonehill faculty, staff and students, in attendance for the historic event were alumni from every graduating class in the College's history, members of the College's Board of Trustees, members of the Congregation of Holy Cross, friends of the College and delegates from 35 colleges and universities.
Officially installing Fr. Denning as President was Thomas May '69, chair of Stonehill's Board of Trustees.
Solidarity with Our Neighbors
In his inaugural address, Fr. Denning, formerly the Vice President for Student Affairs at Stonehill, referenced one of the four principles of Catholic social teaching– solidarity, which professes that we are responsible for and to one another.
"This is an important aspect of the type of Catholic liberal arts education we provide our students at Stonehill," he said. "That is, to see the real and true needs of our world and to find the courage, strength, grace and wisdom to work with other men and women of good will to address them while living in a spirit of solidarity with our neighbors."
"Now in our 65th year, we are still a relatively young institution and, while we have made major strides forward in that time, our best years are still ahead of us. I base my confidence on the spirit of dedication I see across our campus and the deep pool of talent among those who teach, mentor and represent the College at all levels."
Looking to the future, Fr. Denning identified four areas of focus: the development of an even stronger academic profile for the College, enhancing Catholic identity, deepening the commitment to diversity and working on the issue of affordability. To read a transcript of Fr. Denning's inaugural address, visit here.
Fr. Denning succeeds Rev. Mark Cregan, C.S.C. '78, who stepped down in June after 13 successful years of leading the College.
Embracing Opportunities
In her address, student speaker Laura Dzgoeva '14 told first-year students, "Stonehill will be what you make of it…There are mind-blowingly incredible opportunities, experiences, and people around you on this campus."
"The students, faculty, and staff at this College are simply delightful and they want you to succeed. If you reach out and create relationships, if you grab these opportunities, you will undoubtedly be successful here," she continued.
In introducing the faculty speaker, Professor of Foreign Languages John Golden, Dzgoeva said, "His teaching style is dynamic and interactive, and he'll stretch you to your intellectual limit, but he'll make sure never to make you uncomfortable. He doesn't single out one person to call on- it's not about that. It's not about a professor asking a question. It's about a real conversation, flowing seamlessly between Professor Golden and the students."
Find Your Passion, Do The Work, And Go Away
Golden, last year's Hegarty award winner, offered students, particularly those just beginning their journeys at Stonehill, three points of wisdom- "find your passion, do the work and go away,"
"Finding your passion is only job one. No amount of wishing and hoping and wanting will turn your passion into reality. For that to happen, you need to do the work. Stonehill will not do this for you but, we will certainly help you do it. Your front line of help is the faculty," Golden said.
In explaining his advice to "go away," Golden referenced a poster which hangs outside his office that reads, "Other cultures are not failed attempts to be you."
"We claim that one of the outcomes of a Stonehill education is 'valuing the diversity of persons and cultures.' How do you do that? How do you really get it? Go there- experience directly another culture…We have lots of ways to get you there."
Strong Influence
Presenting this year's Hegarty Award to Fr. Gribble was Provost and Vice President for Academic Affairs Joseph Favazza. The award honors a full-time faculty member whose teaching has had a marked influence on the lives of Stonehill students.
Citing statements made by students who nominated Fr. Gribble, Favazza said "(He) always encourages his students to try their best, and he makes the classroom a warm and welcoming place."
Another student said, "Fr. Gribble is always exceptionally prepared for class and willing to go above and beyond the expectations of a professor."
Fr. Gribble, who began teaching at Stonehill in 1995, has written over 20 books on American church history and spirituality.
Week-Long Celebration
Friday's ceremony capped a week-long schedule of events at the College, including a campus carnival, fruit and yogurt social hosted by Stonehill's senior administration, and an academic symposium featuring acclaimed expert on religious violence and peacebuilding R. Scott Appleby of the University of Notre Dame. The College also celebrated two Masses, the Feast of Our Lady of Sorrows Mass on Sunday and the Inaugural Mass on Thursday.
Photo Galleries
To view photos from the inauguration ceremony, visit here.
To view photos from last evening's Inauguration Mass, visit here.
To view photos from Wednesday's Fruit & Yogurt Bar Social, visit here.
To view photos from Sunday's Feast of Our Lady of Sorrows Mass, visit here.
To view photos from Saturday's carnival and football game, visit here.
// ]]>