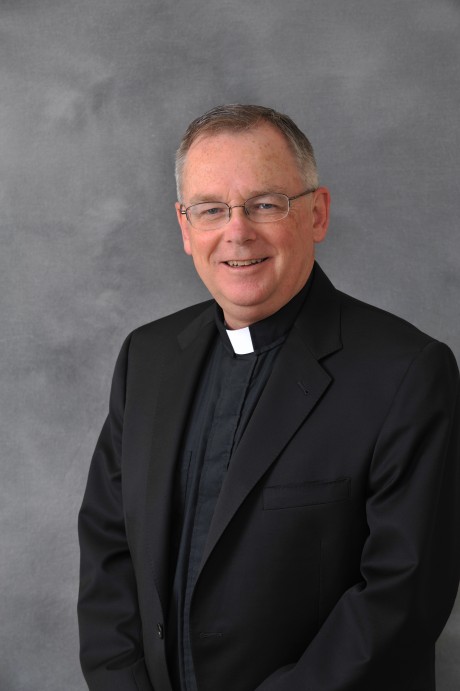 The Presidential Inauguration Ceremony for Rev. John F. Denning, C.S.C., the tenth president of Stonehill College, will be held on Friday, September 20th at 2 p.m. in the Sally Blair Ames Sports Complex. The ceremony caps a week-long schedule of events at the College.
In addition to Fr. Denning's inaugural address, Provincial Superior of the Congregation of Holy Cross Rev. Tom O'Hara, C.S.C., Laura Dzgoeva from the Class of 2014, Associate Professor of Foreign Languages John Golden, and Alumni Council President Cathy Campbell '96 will speak at the ceremony. Fr. Denning began his tenure as President of Stonehill on July 1. He previously served as the College's Vice President for Student Affairs.
The week-long inauguration celebration kicked off on Saturday when the Stonehill football team defeated St. Anselm 52-24. With the victory, the Skyhawks retained possession of the Ol' Bronze Hawk Trophy.
Leading up to the game, a campus carnival was held in the MacPháidín Library parking lot where community members and their families enjoyed rides, games and prizes. A campus barbecue was also held next to W.B. Mason Stadium prior to the start of the football game.
On Sunday, the College celebrated the Feast of Our Lady of Sorrows Mass in the Chapel of Mary. The Mass commemorated the seven great sorrows which Mary lived in relation to Her Son, as they are recorded in the Gospels or through Tradition. Presiding at the Mass was President Denning.
On Tuesday an academic symposium was held featuring guest speaker R. Scott Appleby, the John M. Regan Jr. Director of the Kroc Institute for International Peace Studies and Professor of History at the University of Notre Dame. His research focuses on the roots of religious violence and the potential of religious peace building.
On Wednesday the 18th, students, faculty and staff indulged their sweet tooth at the Fruit and Yogurt Bar Social in the Roche Dining Commons. The College's senior leadership team, including President Denning, hosted the event and served up the scoops to students and other members of the College community.
Under clear skies, the Inauguration Mass for President Denning took place. in front of the MacPháidín Library on Thursday evening. Presiding over the Mass was Bishop George W. Coleman, S.T.L. of the Diocese of Fall River.
For more information on the Inauguration Ceremony, visit here.