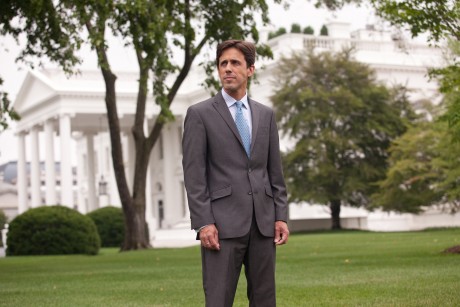 David Simas '92, the newly appointed Senior Advisor for Communications and Strategy for President Barack Obama, will return to his alma mater and engage in a discussion at the Martin Institute on Wednesday, Mar. 5 at 10:00 a.m. The event will be moderated by former chair of the Massachusetts Democratic Party and visiting political science professor John E. Walsh. This event will be open to members of the Stonehill community.
Simas oversees President Obama's new Office of Political Strategy and Outreach, which is tasked with helping congressional Democrats with the upcoming midterm elections. A political science major at Stonehill, Simas' responsibilities will include advising the president on the political climate, handling requests for campaign appearances and coordinating strategy with the Democratic National Committee and local party operations.
"David's commitment to service to his hometown, our state, and our nation is an inspiration and we're delighted he is returning to his alma mater to engage us in a conversation on leadership and public policy," says Political Science Professor Peter Ubertaccio, who also serves as the director of the Martin Institute.
Simas has worked in Washington over the last several years, including serving as the Special Assistant to the President and aide to Senior Advisers David Plouffe and David Axelrod from 2009 to 2010. He was an integral force in the reelection campaign for President Obama in 2012, serving as the Director of Opinion Research.
Last spring during the immigration reform debate, Simas was featured in a video produced by the White House. In it, Simas shared his story about his parents' arrival in the United States from Portugal four decades ago.
Upon his graduation from Stonehill, Simas continued his education, receiving his JD from Boston College. In his political career Simas was elected Register of Deeds for Northern Bristol County and also to the Taunton City Council and School Committees.
Simas then transitioned to consulting, serving as a policy advisor for the Taunton Mayor's office and as Deputy Chief of Staff for Massachusetts Governor Deval Patrick.