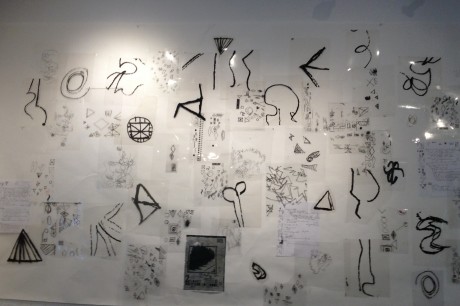 The Cushing-Martin Gallery at Stonehill will feature the work of non-representational painter and mixed media artist Adria Arch through September 27th. The exhibit, the first of the new academic year, includes Arch's acrylic paintings of doodles. An opening reception will be held on Wednesday, September 18 from 6:00 p.m.-7:30 p.m.
The scribbles represent signs and signifiers of the most latent daydreaming. Seemingly quiet marks on a page, when enlarged and painted, Arch elevates them to bold graphic conscious exclamations.
"The shapes and lines that we draw while talking on the phone or sitting in class have been my subject for the past several years," says Arch, a technical consultant for GOLDEN Artist Colors.
"I am moved by these drawings for their unselfconscious quality and mystery. The doodles could be cryptograms, geometric diagrams, or pictographs from another civilization. At their heart, however, they are very human marks, not necessarily elegant and usually offhand. For me, these symbols are a joyous and mysterious language that is both deeply personal and universal," she adds.
Arch collects and photocopies doodles onto transparencies and projects them onto her canvas. The projections reveal eccentric edges and turn the otherwise insignificant into something which commands attention.
"I have transformed the doodles into enormous icons emblazoned on large canvases that are displayed in groupings to create a body-scaled, physical experience for the viewer. The flatly painted surfaces suggest street signage, or medieval heraldic shields," explains Arch.
"The paintings are configured to allow a narrative in which colors and shapes play off of one another, creating deeper conversations about space and energy."
In addition to her work with GOLDEN Artist Colors, Arch teaches privately and at local museums and art centers. Devoted to communicating the transformative power of art on a local as well as global level, she is currently chair of Arlington Public Art and a member of the Arlington Cultural Commission.
Event: Adria Arch - Iconic
Date: On display through Friday, September 27th
Hours: Mon. - Fri., 9:00 a.m. - 8:00 p.m.
Opening Reception & Gallery Talk: Wednesday, September 18, 6:00 p.m. -7:30 p.m.
Location: Cushing Martin Gallery and Lobby, Stonehill College, 320 Washington Street, Easton, MA 02357
Admission: All are welcome; Admission is free of charge.
Contact: For more information and press photos please contact Gallery Director Candice Smith Corby at csmithcorby@stonehill.edu or 508-565-1897.