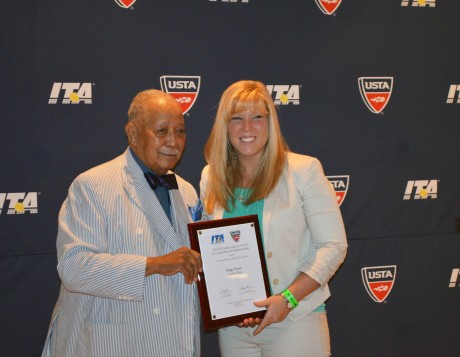 Recent Stonehill College women's tennis graduate Paige Frost '13 was among those honored by the Intercollegiate Tennis Association (ITA) and United States Tennis Association (USTA) during a luncheon held in conjunction with Arthur Ashe Kids' Day prior to the start of the 2013 U.S. Open this past weekend.
Frost received her NCAA Division II Arthur Ashe, Jr., Award for Leadership and Sportsmanship from former New York City Mayor David Dinkins during the ITA's Awards Luncheon hosted by the USTA in the President's Suite Dining Room at the USTA Billie Jean King National Tennis Center. After the luncheon, the award winners were able to watch Arthur Ashe Kids' Day from the USTA President's Box, which included a special appearance by First Lady Michelle Obama as well as tennis stars Serena Williams, Rafael Nadal and Roger Federer.
Frost, who collected both the National and East Regional Ashe Awards, completed a remarkable four year career for the Stonehill women's tennis team in which she compiled a career combined record of 127-32 (.799) in singles and doubles play, earning six All-Northeast-10 Conference honors and leading the Skyhawks to the Northeast-10 Conference Tournament Championship this spring. The Arthur Ashe Award dates back to 1982 and recognizes outstanding individuals in all divisions at the regional and national level for NCAA Divisions I, II and III, NAIA and JuCo men's and women's players who have exhibited outstanding sportsmanship and leadership as well as scholastic, extracurricular and tennis achievements.
Frost excelled as a role model to her teammates by offering support on the tennis court and in the classroom. She led by example, inspiring others to achieve the goals they all desire. Frost, a two-time NE-10 Academic All-Conference selection who received the NE-10 Scholar-Athlete Sport Excellence Award for women's tennis as a junior, is 71-12 (.855) all-time for singles, including a 44-2 (.957) career mark in NE-10 play, to go with a 52-19 (.732) career doubles record, going 27-4 (.871) in NE-10 doubles play. Frost has received the St. Thomas Aquinas Medal for having the highest cumulative grade point average on the team three-straight years and was honored at the Stonehill Senior Student-Athlete Awards Dinner with the Edward E. Martin Senior Scholar-Athlete Award.
Frost and rising sophomore Kirsti Toegemann combined to form the 6th-ranked doubles team in the most recent ITA East Regional rankings, marking the highest doubles team ranking in program history. The duo earned second team All-NE-10 honors for No. 1 doubles and combined to post a 10-2 overall record since being united this spring, including 6-1 in NE-10 play. Frost, a two-time All-Conference honoree for doubles after she and former teammate Sarah Hickey, '12, were third team honorees at No. 1 in 2011-12, posted an overall doubles record of 23-8 this season, including 11-1 in NE-10 play.Frost earned All-Northeast-10 singles honors for the fourth-straight year this season with her third first team honor this spring at No. 4 singles. She was a first team honoree for No. 5 singles as a freshman, No. 4 as a sophomore and a second-team performer at No. 3 singles last season. Frost posted a 21-6 overall for singles during her senior season, including a 19-3 clip in dual match play and winning all 12 of her NE-10 matches.
Frost accepted a position with PricewaterhouseCoopers, LLP, upon graduation and is a member of Beta Alpha Psi, Beta Gamma Sigma and Lambda Epsilon Sigma National Honor Societies. She has been enrolled at the honors program at Stonehill and has been a member of the Stonehill Student-Athlete Advisory Committee and Skyhawk Leadership Academy. She participated in PricewaterhouseCoopers' Project Belize in 2012, teaching financial literacy to children in Belize and assisted students with homework projects at David Jon Louison Center in Brockton.