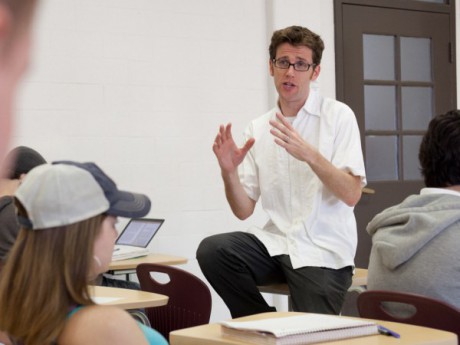 Sociology professor Christopher Wetzel came to Stonehill from the University of California, Berkeley, an institution known for student activism since the 1960s. "I liked Stonehill's mission to think critically about social inequalities and its commitment to community service," says Wetzel. "I also appreciated how well Stonehill balances teaching and research."
Like many of his Stonehill colleagues, Wetzel shares a passion for social justice with his students, and he is eager to participate in the life of the college after hours. Talking a mile a minute, he contributes to lively discussions at film screenings; serves as a community associate to a residence hall; advises a student organization, Women's Health and Empowerment Now; and rolls up his sleeves to join a service trip to Peru.
But, as important as the films, protests, field trips, and group activities are, Wetzel is still a scholar at heart. Yet rather than holing up in the archives alone, he makes a point to involve students in his research, with some very exciting results.
Through a college-sponsored summer research program, Wetzel hired Kim Luciano '13 to assist him with some scholarship on the Massachusetts State Lottery. They applied for a grant together and then visited various archives around the state, working elbow to elbow among piles of books, three days a week. "It was fun," says Wetzel. "We got a chance to chat more informally."
They prepared an article together and were invited to present at a regional sociology meeting in New York. "I said to Kim, we'll go together and we'll practice together, but you'll do the presentation," explains Wetzel. "I will chime in if needed," he said, "but this project is as much yours as it is mine."
Luciano delivered a clear and succinct presentation and fit in perfectly with the Ph.D.s on the panel. Her mother and two aunts were in the audience, thrilled to witness a high point of her college experience. "She did something that I wasn't able to do, frankly, until graduate school," admits Wetzel.
Luciano did a great job, but she's not alone. A number of students have added real research and/or teaching experience to their resumes in collaboration with Wetzel. Thompson Lozier '11, who is currently studying environmental law at Northeastern University, started out writing about environmental issues in Wetzel's class and joined Wetzel for a conference in Philadelphia. Jon Green '10 is Stonehill's assistant archivist, and he's also considering applying to graduate school for anthropology. Wetzel advised him on his undergraduate history thesis while Green worked as a teaching assistant for Wetzel.
Another student, Hailey Chalhoub '13, popped into Wetzel's office one day to follow up on a question in class. That conversation turned into an extensive faculty-student collaboration. Wetzel hired Chalhoub to help edit his forthcoming book, One Spirit, One Nation. She also pursued a directed study with Wetzel, which developed into a new course offering, Environmental Sociology. This experience, combined with her own experience as a student in Wetzel's classes, led Wetzel to enagage her as a teaching assistant, and then the two redesigned his Intro to Sociology course while they were at it.
Chalhoub wanted to help students in the Intro to Sociology course get beyond the frustration of merely recognizing social inequality, to the point of finding some potential solutions. Wetzel adjusted the curriculum to allow for that, and also learned from Chalhoub that more content is not necessarily better content. "I don't have a monopoly on wisdom," says Wetzel. "I think dialogue is very important. I certainly learn from my students, not just where they are and what they want, but how they see the world."
Wetzel's favorite example of this occurred in his Sociological Theories course. Olivia Dyson '13 asked a deep philosophical question about Simone de Beauvoir and what it really means to struggle together. Wetzel was taken aback and had to think a bit before answering. "This wasn't even the type of question I was asked on my [doctoral] qualifying exam!" exclaims Wetzel. "If undergraduates can pose these kinds of graduate-level questions, it shows we're really going somewhere." He continues, "This is a reciprocal, dialogical, intellectual journey – I get just as much from them as I hope they get from me."