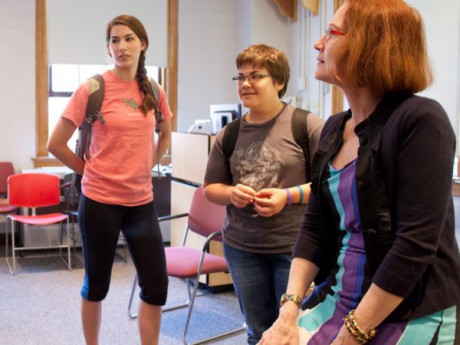 "I love teaching at Stonehill and particularly love teaching freshmen," enthuses Leith. "It's exactly what I've always wanted to do – teach the Bible and religion in a four-year undergraduate college." Leith also serves on the First-Year Experience Committee, which provides programs to help students with the transition to college life and the Stonehill community. "I watch the students grow, and it's really fun! They open their eyes and become more aware of the global context."
Leith's first-year students begin their intellectual journeys out into the world right from Stonehill's very own Chapel of Mary. It has an open, circular plan with an altar in the middle. To Leith it shows that the most sacred place is in the center. Just as the heart of religious studies is the original text.
"Instead of looking at what you're 'supposed' to believe, we go back to the text," explains Leith. And ironically, that's where the challenge begins. "When the students actually wrestle with what's written in the gospels, they see Jesus wasn't really a warm and fuzzy character, which people automatically assume," says Leith. "Jesus presents a challenge to Christians in terms of what he demands
of them."
As a religious studies professor, Leith feels it's important for students to go through a period of questioning. "Psychologically, it's exactly what they should be doing at this age," she says. "We want all our students to feel [college] is a safe time in which to ask questions." After examining old beliefs, and consulting original texts and their own moral compass, the students are ready to look outward, toward their careers and helping others while staying true to themselves. A number of Leith's students are good examples of this process.
Sarah Bolasevich '11 thought she was going to be a computer science major, but after Leith's class, she fell in love with studying the various perspectives of religious culture. She spent a semester abroad in nepal and was accepted by harvard Divinity School but has deferred for a year to return to nepal to collect oral histories of quickly vanishing Tibetan religious lore.
Leith strongly encourages all her students to study abroad. "When students come back from study abroad they just have an aura about them; they stand up straighter and have a brighter light in their eyes," muses Leith. According to Leith, going to another country is an invaluable learning experience, intellectually and developmentally. Students negotiate another language in an unfamiliar city, and they get a taste of how much they are capable of. "They discover it's not as scary as they thought," says Leith. She feels that's at least as important as seeing the "real things" abroad, such as the Colosseum, early Christian churches, and other monuments of our culture.
But a student's intellectual journey is not marked by texts and historic buildings alone. Religious studies won't always predominate in every student's life. However, warm and caring professors like Leith are the linchpin of the Stonehill experience.
Adam Dunn '11 was frustrated by parental pressure to go into business. he opened up to Leith about it, and she spent a lot of time discussing it with him, helping him discover what he really loved. In time he realized that the graphic arts were something he felt passionate about and that they also could be integrated very nicely with his business studies. "Graphic design allowed his creative juices to flow, within a business focus," explains Leith.
Another exemplary student of Leith's was Kevin Abbott '08. A committed business major, he's now a CPA at State Street Bank. With Leith's encouragement he studied biblical hebrew with a passion. Since graduation he's stayed involved with charity work and stayed in touch with Professor Leith. "It's really nice to see him be very successful in the business world and still interested in giving back and maintaining his intellectual curiosity," says Leith.