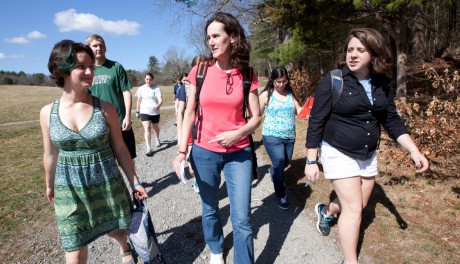 Biology professor Susan Mooney '82 is the rare faculty member who is also a Stonehill alumna. She describes herself as a local working-class kid who initially chose Stonehill as an undergraduate because of the short commute. The reason she came back as a professor had everything to do with her faculty mentors. "They are what make Stonehill a fabulous institution," exclaims Mooney. "Faculty are accessible, caring, and enthusiastic about working with students," she says.
Last fall, Mooney was surprised to find her Principles of Environmental Science course filled with business majors. Mooney responded by treating the class as she does every class – she carefully tailored it to the students' interests. "I try to discern where the students are developmentally and intellectually," Mooney explains. "I try to encourage students to find out what they love most and what they want to spend their lives doing. I realized, in this case, I needed to come up with a project to use their [business] skills."
Mooney quickly reached out to her colleagues in the Department of Business Administration. With their advice and her environmental knowledge she created a partnership with the local Bank of Easton in which the students wrote management and marketing plans to help the bank conserve energy, conserve paper, and plant sustainable landscaping. Bank management was thrilled with the students' final presentations. "My goal was met because they were able to use their business skills to better learn the environmental principles," says Mooney.
In Mooney's published articles in academic journals, such community-based learning involving collaboration with local businesses or nonprofits is called "pedagogy of engagement." But it just might as easily be called an intellectual journey – one in which Mooney helps provide students with firsthand experience of environmental problems. Once students have that knowledge, Mooney's passion for the environment motivates them to take action to bring about positive change. Through this process, students develop real-world skills, confidence, and commitment. "Our students are capable of so much," says Mooney. "Faculty just need to set them up for success."
Modestly, Mooney is quick to credit her fellow professors and Stonehill administrators for facilitating her students' success and community service. "In all the interdisciplinary courses I've taught, I've been blessed with phenomenal teaching partners," says Mooney.
These are teachers who continue to support and mentor their students outside the classroom. "Just the other day I forwarded a news clipping to a student," says Mooney. As a rule, Stonehill faculty members remember what students care about, offer advice, write letters of recommendation, send notices of jobs or scholarships, or do whatever seems appropriate for them. Students often credit a faculty relationship with shaping their college experience and career. And it goes both ways.
"Working with Trish Godio '09 had a huge impact on me," says Mooney. Godio took her environmental knowledge from the classroom and used it to all but eliminate disposable plastic water bottles from the Stonehill campus. Such a change not only reduces plastic bottle waste. It saves the college money and makes a political statement in support of small farmers around the world whose irrigation is negatively impacted by commercial water bottlers. Helping Stonehill students like Godio grow into their self-confidence and sense of agency inspired Mooney to continue developing her own passion for teaching and learning. Even though her background is in environmental science, and not education or psychology, while at Stonehill, Mooney has developed an academic subspecialty in teaching and learning – specifically student learning and development in the college classroom. "I try to provide experience with challenging problems that motivate toward a deeper understanding and greater confidence in the students' own problem-solving ability," explains Mooney.
Mooney has been researching and publishing in this area for 10 years now. "It's really powerful stuff," she says. "Students go from knowledge to action." That action may be personal change or political action – using recycling bins or changing campus-wide purchasing policies with regard to bottled water. But either way, Mooney is helping students develop into the sorts of citizens Stonehill strives to foster – people who contribute to the creation of a more just and compassionate world.