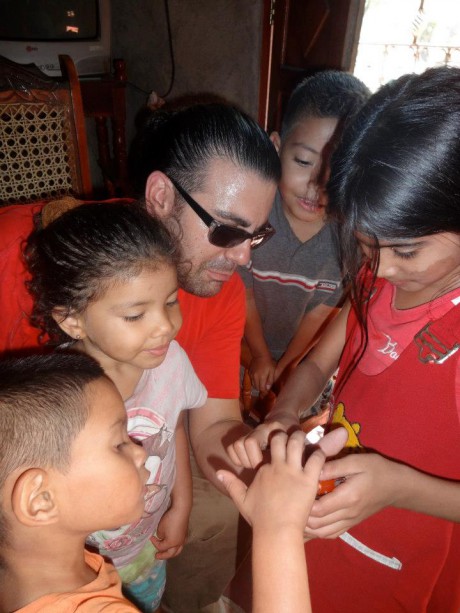 In March, more than 160 Stonehill students [plus 20 staff and alumni] participated in H.O.P.E. alternative spring break trips, visiting Nicaragua (pictured left), the Dominican Republic, El Salvador, Peru, New Orleans, New York, New Jersey, California, West Virginia, Kentucky and Phoenix. And, there may well be a waiting list for next year's trips. (H.O.P.E. stands for honoring our neighbor, organizing for justice, practicing peace and encountering God.)
In 1996, however, the College only offered one mission trip and that was to New York. Mike Cipoletti '99 set out to change that. Fueled by a previous trip to Nicaragua through his high school in Northport, New York, Cipoletti spoke to classmate Michael McKenna '99 on the back steps of Boland Hall about getting a group of Stonehill students to travel to the developing country on a service trip.
To his surprise, the College agreed and, over Spring Break 1997, 21 students and four administrators traveled to Nicaragua where they built three high school classrooms and a medical clinic. They also immersed themselves in Nicaraguan culture. For most students, it was their first experience in a developing country and it proved life-changing.
"Stonehill put so much trust in me," reflects Cipoletti, who was "completely blown away" by the experience. A seed was planted that would change the course of his life, along with the lives of countless Stonehill community members and the nearly 8,000 residents of Chacraseca in the northwestern part of Nicaragua.
Since then, Cipoletti has devoted his life to helping the people of that small village. Over the years, he has helped facilitate the building of four schools, over 100 houses, a potable water project, the beginnings of a library, a teachers' lounge, and cafeterias at every school.
In 2011, he co-founded Friends New England (FNE) with Travis Kumph '10 and Anna DeSousa '97, through which Cipoletti organizes several volunteer trips each year. FNE is a non-profit dedicated to sustainable social development and educational projects in Nicaragua, Haiti and Peru.
"We run lots of trips, but the Stonehill one is special," he notes. "Because it is run through Campus Ministry, it's not simply a service trip, but a total immersion experience. There's a real spiritual component," he explains. "We not only build things, we also eat meals with the families, hike the nearby volcano, and pray together."
Building on Cipoletti's perspective, Campus Minister Joe Miller, who runs the HOPE program, explains that with the trips, "our goal is to afford students the opportunity to have a face put onto the social, economic, and cultural differences they may hear about in class. For the communities we visit, I hope that in our visits they will see or be reminded that they are not forgotten and the injustices they may suffer are not unnoticed."
Miller adds, "we want our students to learn something about their own lives from those for whom life can be a significant struggle. Even though we might speak in such terms, I do not want H.O.P.E. trips to be seen as strictly service trips; that we go to 'help' others, in a paternalistic sense. We have as much, or more, to learn from our hosts as we have to give."
Cipoletti has traveled to Nicaragua 75 times in the past 16 years. Helping those in Nicaragua, the poorest country in Central America, is his calling. And, his enthusiasm for helping people in Chacraseca is contagious. Children of Stonehill staff members, parents and siblings have also fallen in love with the people of this small village, strengthening their own family bonds in the process.
"After just one week, my daughter felt like part of their family and asked me to return with her on another trip Mike ran just months after herH.O.P.E. experience," says Jacqueline O'Toole, mother of Katherine '11, who traveled with Stonehill in her senior year.
Jacqueline (pictured left with Cipoletti), owner of ONE, a gift store in Duxbury, Massachusetts, went with her daughter and immediately felt a connection. She has since returned eight times to work with the village women, forging friendships while helping them create jewelry and bags that she sells in her shop.
"It brings me great satisfaction to know that the items in my store are helping my new friends back in Nicaragua," she says. "These women have incredible spirits and work hard to keep their children safe and healthy." Her other daughter, Elizabeth, taught English in Chacraseca last fall.
Cipoletti's dedication and enthusiasm for his work are evident, and as a result, he has become a cherished member of the village. In fact, townspeople threw a huge "Quinceañera" for him last year to celebrate his 15th year of being a part of their community, complete with a parade, dancing and a huge feast.
He is quick to point out, however, that he could not run these trips without the support of all the volunteers, donors and community leadership in the village.
"Over the years, I've seen the people in Chacraseca more empowered, with more opportunities open to them," reflects Cipoletti. "They also feel a partnership with our organizations and this is an important shift from a donor recipient relationship which we saw early in the history."
Grown from a seed planted behind Boland Hall, service trips like this one helped form the successful H.O.P.E. program of today, giving students and Stonehill's extended community members a chance to help others around the world in a tangible way. Now a cornerstone of the College's service outreach, it is a critical educational component that reaches far beyond our campus boundaries.
To learn more about H.O.P.E., contact Campus Minister Joe Miller at 508-565-1487 or at jmiller1@stonehill.edu. For service trips specifically to Nicaragua, visit www.friendsne.org.