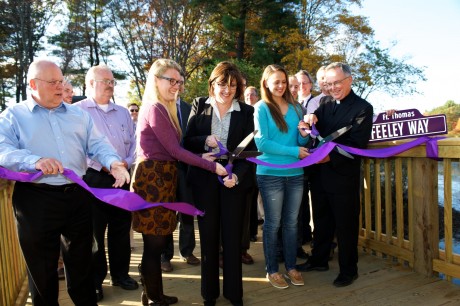 Stonehill College celebrated the opening of its new pedestrian bridge at a special dedication ceremony on Thursday, October 17. The bridge, which is named in honor of long-time professor and student mentor Rev. Thomas Feeley, C.S.C., crosses Ames Pond at its narrowest point, connecting the area around Cardinal O'Hara Hall and the south quad with the four residence halls on the east side of campus.
York Bridge Concepts of Florida designed and built the bridge, which sits about nine feet above the water and is 10 feet wide and 110 feet long. On either side, there is a porous asphalt pathway and a boardwalk leading to the wooden bridge, which is made of southern yellow pine.
Building Bridges
At the dedication ceremony, Stonehill President Rev. John Denning, C.S.C. spoke not only of the practical nature of the bridge, but also what it means symbolically for the College. "The bridge shows how we can reimagine possibilities and see opportunities for making things better. And symbolically, the bridge touches on an opportunity for coming together as a community," said President Denning.
"If we are to succeed and progress as a community of scholarship and faith, we have to be open to reaching out to others for support, advice, fresh ideas, feedback and ongoing but civil dialogue. That is to build and sustain bridges, joining with our neighbors, welcoming new generations of students, constantly reconnecting with alumni, and embracing new faculty and staff while appreciating those who have served us so well over the years," he continued.
Rev. Thomas Feeley, C.S.C.
After spending three years at King's College, Fr. Feeley came to Stonehill in 1962 to teach philosophy. A true educator in the faith, he was known not just as a dedicated teacher but also as a very pastoral priest, one who always reached out to people during difficult times. A regular at student functions, he was a master at getting students involved in projects to beautify the Stonehill campus.
At the dedication ceremony, Director of Campus Ministry Rev. Hugh Cleary, C.S.C. said "Fr. Feeley was a bridge builder, both literally and figuratively. As a priest professor at Stonehill for nearly 40 years, he touched the lives of countless students, bridging their differences to cultivate a valuable part of who they were as neighbors and citizens on this campus."
Fr. Feeley taught at Stonehill until 1998 when he joined Holy Cross Family Ministries, first as National Director and later as the Vice Postulator for the Cause of the Canonization of Servant of God, Father Patrick Peyton, C.S.C. He passed away in 2004 following a brief illness and was laid to rest with his fellow Holy Cross religious at the community cemetery adjacent to the College.

Special Thanks
President Denning gave special recognition to those who helped make the Rev. Thomas Feeley, C.S.C. Bridge a reality. They included: York Bridge Concepts, Haley & Aldrich, the S/L/A/M/ Collaborative, Nitsch Engineering, G. Greene Construction, Epsilon Associates, and the Town of Easton.
Joining President Denning for the ribbon cutting was Chair of the Easton Board of Selectmen Colleen Carona, Associate Vice President for Finance and Operations Craig Binney, Director of Facilities Management Bruce Boyer, Associate Director of Building Operations Joe Kelleher, Associate Director of Ground Operations Paul Ricci, and Executive Vice President for the Student Government Association MaryCharlotte Buck '14.
To view a time-lapse video of the building of the bridge by York Bridge Concepts, visit here.