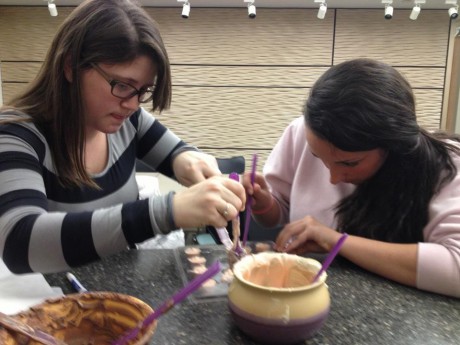 "Chemistry of the Cupcake," "Designing for the iPad," "Engaging Environment," and "Nerd Culture." These are just some of the unique one-credit courses being offered at Stonehill this semester through a new two-year pilot program called IDEAS (Integrating Democratic Education at Stonehill), which puts students in front of the classroom, leading discussions on a wide-range of topics with their peers.
The brainchild of Hailey Chalhoub '13 and Assistant Professor of Sociology Chris Wetzel, IDEAS seeks to foster student engagement and encourage the sharing of ideas between students. In the fall, students presented their concepts for courses they wished to facilitate which has resulted in six one-credit courses being offered this semester.
"I've long been excited by the idea of democratic education," says Wetzel, who began discussing the topic with Chalhoub two years ago. "Our thought was that a program like IDEAS would foster engagement by encouraging a love of ideas, recognizing the depth of knowledge students possess, and emphasize the importance of being challenged by classes. It's incredibly exciting to see a program in its first semester offering such a wide-range of disciplines from the natural sciences to the humanities to the social sciences," adds Wetzel. To read a full description of all six courses, visit here.
For the students leading the courses, the experience has been rewarding on many levels. "It is remarkably rewarding to hear insights and perspectives on the topics we discuss and I have really enjoyed learning from each of my students, rather than simply teaching them what I know," says Kristen Kennedy '14, who is co-teaching "I Am Because You Are" with fellow students Noah Dunn '14 and Prithak Chowdhury '15.
"The course is named after the African proverb 'Ubuntu' and focuses on deconstructing and breaking down stereotypes, both in our Stonehill community and beyond. The course is a growth process that challenges students to think beyond themselves in order to gain perspective and awareness of diversity," says Kennedy.
The open nature of the course allows the students to freely discuss issues that may be on their minds, from race to socioeconomic status, with the goal of getting students to reach beyond their comfort zones says Kennedy. "I have the students work off of one another, rather than simply lecturing them."
"The course really got me thinking, if I can learn so many great and inspiring things about my peers just in this class, there is so much more to learn about the entire Stonehill community," says Austin Alfredson '15.
For other students like Samantha Smith '14, the IDEAS program has helped increase her confidence. ""If you had told me last year that I would be able to put together and run such an interesting course, I would have likely said, 'Yes, maybe in ten years!'" In her "Nerd Culture" class, which she teaches with Nicole D'Angelo '14 and Laura Dzgoeva '14, course topics go well beyond comic books and video games.
"Some aspects we cover include popular culture as propaganda, the portrayal of the military in American media , the impact of modern history on 21st century American popular culture, feminism and questions of censorship" says Smith.
In the "Engaging Environment" course, taught by Daniel Gardiner '14, Jessica Mardo '13, and Christopher Astephen '15, students have not only thought outside the box but have also literally gone outside the classroom. "We began studying strategies for successful activism and were able to apply that knowledge through trips to rallies in both Portland, Maine and Washington, D.C. against the Keystone XL Pipeline," says Gardiner.
Stonehill's Energy Manager Jessa Gagne visited students in the course to talk about the various sustainability initiatives on campus, which led to the class creating a 'green' advertising campaign to help spread the word on these projects. Using moss as their medium, students painted murals on large plywood canvases that spell out messages about the College's green efforts. They also, in an attempt to diminish the use of plastic and Styrofoam cups on campus, designed and purchased hundreds of tumblr beverage containers with a grant from the College's Green Fund and handed them out at the Sustainability Fair on campus.
To help guide the student-teachers, most of who have never taught before, Chalhoub and Wetzel hold weekly seminars where they discuss teaching practices and effective strategies for engaging students.
"Every week we have fruitful conversations and many people draw from their experiences in other classes and leadership positions when sharing ideas about how to build community in their classes and engage their students," says Chalhoub.
Several faculty members have served as guest speakers at the weekly meetings as well, offering their expertise. "Professor John Golden from the Foreign Languages Department gave exceptionally helpful advice to the instructors...He answered questions about how to navigate difficult conversations, how to prepare lessons and how to facilitate interactive classes," Chalhoub recalls.
Although Chalhoub will be graduating in a few weeks, Wetzel remains committed to making IDEAS courses a permanent offering at Stonehill. "It provides students with such a unique opportunity to be engaged teachers and learners," says Wetzel, who hopes to have around eight IDEAS classes for the spring 2014 semester.