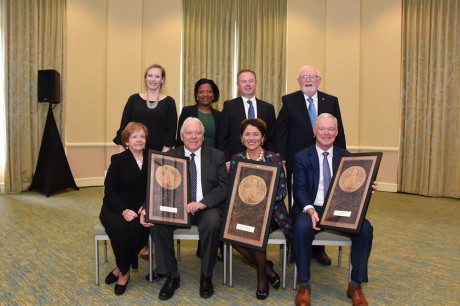 Congratulations to alumnus and trustee John Drew '65 who recently received a Boston Irish Honors award, which is presented to individuals and families of Irish descent in recognition of their community leadership and accomplishments.
An English major and philosophy minor at Stonehill, Drew is the founder and president of the Drew Company which has transformed Boston's waterfront into today's bustling, vibrant Seaport area along with major development projects from Washington, D.C. to Dublin.

Known for fostering public-private partnership, His impact on tourism, hospitality and development in Boston has won him many awards and distinctions.
In addition to his business and entrepreneurial projects, Drew is also known for his civic involvements which include Catholic Charities, Cathedral High School's Adopt-A- Student program, the American Ireland Fund, Caritas Christi Health Care System and, of course, Stonehill.

In 1987, he received the College's Outstanding Alumnus award in tribute to" his entrepreneurial abilities as developer of Boston's World Trade Center and Merchandise Mart, Horticultural Hall, Great Woods Center for the Performing Arts, and Constitution Plaza in Charlestown."
At the award ceremony on Friday, October 18, 2019 at the Seaport Boston Hotel, Boston, Drew's wife Kathleen was also a recipient of a Boston Honors Award.