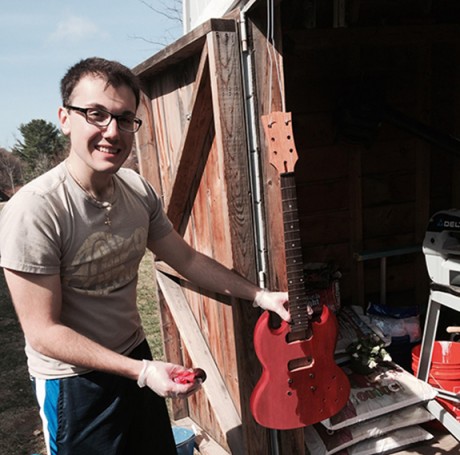 "The Electric Guitar in American Culture." It doesn't sounds like your typical history course and for 23 students taking it this semester, it's been more than a run of the mill history lesson on the iconic instrument. Not only are they learning about the history of the guitar, they are each learning to build one.
Taught by Professor Todd Gernes, the class explores the electric guitar as an instrument, symbol and artifact of modern culture. The American Studies course uses an interdisciplinary approach as students study the impact of the electric guitar on music, from blues to heavy metal, and they dig into the lives of the musicians and manufacturers who gave the electric guitar its cultural status.
"The electric guitar has become an ubiquitous symbol of modern American culture, penetrating music, advertising, design, technology, coming of age, and even the American dream," Gernes notes.
After using the electric guitar as a window into American history and culture, students have the opportunity to build their own solid body guitars from basic kits, using hand tools, sandpaper, soldering irons, dyes and varnishes, and their own creativity. With a little care and patience, students can construct professional quality instruments.
Other creative class projects include the iPad Ensemble, in which students explore electronic music and performance, and the Rock Ensemble, in which students arrange and perform classic rock tunes. Creative projects for the course count toward class participation and allow students to demonstrate their understanding in a very tangible way.
Gernes, who has been teaching the course since 2012, is a lifelong guitar player and performer and enjoys designing and building guitars as a hobby. As he enthusiastically points out,
"Guitar building gives students the opportunity to bring the theoretical concepts and historical contexts of the course into practice and, hopefully, allows them to integrate music into their lives in a meaningful way. It's all about engaging students in a fundamental way—and if the smiles and sparkling eyes are an early indication, I've had some success."
Megan Shea '14 & Kendal Collins '15