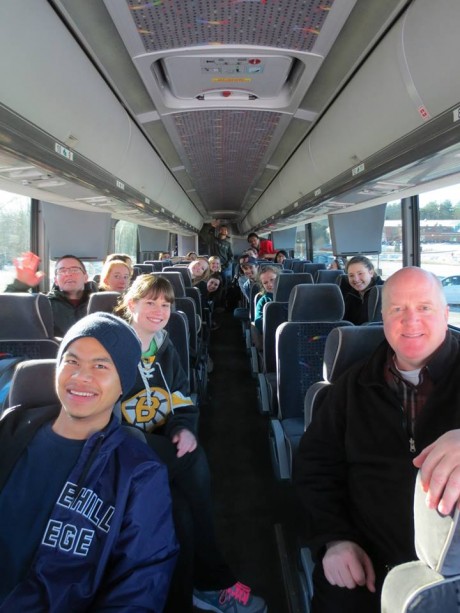 Over spring break, thirteen H.O.P.E. Service Immersion delegations from Stonehill depart in the spirit of Holy Cross to bear witness to love in the world.
Thank you to everyone who has worked to make these experiences a reality for the 180 participants. It truly is the fruition of our mission as a Holy Cross institution of higher education.
All trips will return to campus on March 15th. We ask that you keep them in thought and prayer during spring break. Please consider an act of solidarity by being intentional about your water, energy, and food usage along with waste production. All of our groups will be learning and growing and it is our hope you will be as well through acts of solidarity.
With Peace,
MaryAnne Cappelleri, MA
Campus Minister for Service Immersion Programs
Give to Stonehill in Support of Our Mission
Information About Each Trip
H.O.P.E. Dominican Republic
A delegation of 18 people will serve at Hogar del Nino, a school for underserved Dominican children and a site for our Stonehill Service Corps Program. The group will learn about the educational system in the DR and international poverty.
H.O.P.E. Peru
A delegation of 24 will serve in Canto Grande at the Holy Cross Mission. Specifically, the group will work at the Fe y Alegria updating the school's playground with the local community. Additionally, they will serve at Yancana Huasy a day program for kids with intellectual and developmental disabilities. They will learn about issues of international poverty and access to natural resources.
H.O.P.E. California
Our delegation of 19 will serve at a former Holy Cross Parish in Coachella Valley, California. The group will be working with the Coachella Valley Housing Coalition to build affordable housing in southern California. Students will also be exposed to immigration issues and policy in America, and the injustices migrant farm workers face with pay and working conditions.
H.O.P.E. Ware
A group of 9 individuals will be on a rural immersion at the Agape Community in Ware, Massachusetts. They will learn about sustainable living and practicing Christian non-violence. The students will work Agape's farm and immerse themselves in the Agape lifestyle of composting, fueling their "veggie car" and many other sustainable practices.
H.O.P.E. West Virginia
A delegation of 15 will work with The Appalachian Institute out of Wheeling Jesuit University. While on site at Fresh Air Farms, the group will encounter and learn about social justice issues ranging from mountain top removal, fracking, access to healthy food, and addiction which are prevalent in the local community.
H.O.P.E. Tennessee
A group of 18 participants will serve the Cocke and Servier county communities through Sunset Gap Community Center. They will assist in construction of a wheelchair ramp and other home reconstruction for underserved families who would not be able to finance or execute these repairs otherwise. They will examine rural poverty issues while on site.
H.O.P.E. Kentucky
A delegation of 10 will work with the Christian Appalachian Project to repair and construct homes in Eastern Kentucky. The group will be taking part in WorkFest, which happens annually and involves college students from around the country coming together to serve and learn about rural poverty in Kentucky.
H.O.P.E. Syracuse
A group of 8 will travel to Syracuse, NY to live and work within the L'Arche Community. They will encounter social justice issues pertaining to people with intellectual and developmental disabilities. They will experience accompaniment and solidarity while they live, work and pray within the L'Arche Community.
H.O.P.E. Oregon
A delegation of 10 will focus on the social justice issues of hunger and homelessness. Volunteers will mainly serve with the hospitality ministry at St. Andre Bessette Catholic Church in downtown Portland. Participants will learn about urban poverty in Portland and build community with those who are hungry, homeless, mentally ill, recovering from drug addiction and abuse, and living with intellectual and developmental disabilities.
H.O.P.E. New Orleans
A group of 18 will work with the St. Bernard Project and will not only serve but learn about the social justice issues still present after Hurricane Katrina. After about 9 years, the effects are still being felt today. They will also spend time with the Marianite Sisters of Holy Cross and learn about their work with the people of New Orleans.
H.O.P.E. Staten Island
A group of 9 will be doing Hurricane Sandy relief work within the Staten Island community. They will also explore Rockaway Beach and Breezy Point, NY with alumna Megan Boyle, Class of 2011. They will serve with Episcopal Recovery team of Staten Island.
H.O.P.E. Bronx
A delegation of 9 people will examine justice areas of women, children, and education of immigrant populations while they work with the Mercy Center in Mott Haven, a community in the South Bronx. Throughout the week, the group will take part in many activities, including helping out at the daycare, tutoring a GED class, helping in elementary school classrooms, and doing projects with the after school program at the Mercy Center.
H.O.P.E. Arizona
A group of 8 will serve in the city of Phoenix where they will have the opportunity to experience the mission of the Andre House of Hospitality. This organization, which provides a wide variety of services to the population of Phoenix experiencing homelessness, was established through the Congregation of Holy Cross and grew out of the Catholic Worker Movement. During their time at Andre House, they will assist the staff by serving meals and providing services including access to laundry, showers and other necessities that their guests might otherwise have to do without.