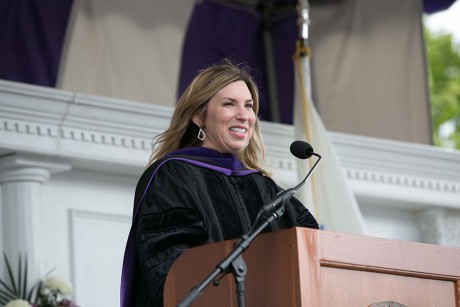 What a pleasure it is to be here today on THIS side of the stage! Never, in a million years, when I was sitting out THERE, did I ever, EVER imagine that I'd be standing HERE! What an honor it is to be invited back to a place where I spent four important years of my life becoming an adult, learning hard lessons, making lifelong friends and (despite my major), discovering that I really, really didn't want to be an accountant, after all (sorry Professor Salvucci!).
I thought long and hard about what I should say to you, Class of 2019. The first thing that came to mind was a song that became popular around the time I graduated, called "Sunscreen". In it, the singer offers lots of valuable advice to the class of 1997, the most important piece as referenced by the title -is to always wear sunscreen. Having spent an awful lot of time lounging in the sun and an awful lot of money on Botox, I certainly understand the value in that advice. However, I also don't consider it the most valuable.
Since graduating, let's say… "a few" years ago, I have learned so much more about myself, about other people, about what's important in life than I knew when I was in my early twenties. Now, …I'm certain that if you had asked me back then, I'd say I had things all figured out – just look how far I had come since my first day at Stonehill, freshman year, a recent high school grad with no idea what the real world was all about. Heck, with no idea how to get from O'Hara Hall to the Commons! During my four years at Stonehill I learned how to budget time and money, how to live independently and what it took to land a great job.
Unfortunately, my sense of direction did not develop quite as well….. I'm quite sure, though, that I thought I was ready for anything. But in hindsight, I recognize that much of what life had in store for me, I wasn't ready for at all.
Of course, the biggest, unexpected curve ball occurred back in April of 2013, when I thought I had real problems. At the time, I was involved in a bad on again, off again relationship that I just couldn't seem to muster up the courage to end once and for all, I wasn't thrilled with my job and had begun to look for other opportunities, and my parents had just announced that they were moving to Florida and selling the home where I grew up. With hopes of forgetting my woes for a day, I embarked on an annual tradition that I had always looked forward to – Marathon Monday in Boston. I'd head up to the City on the train, watch the game at Fenway for a while and then walk over to the marathon finish line later in the afternoon with six other friends. It was something I looked forward to each year and 2013 was no different.
Well,… we all know Marathon Monday, on that particular year, didn't turn out at all as anyone had expected. Two men had planted bombs on the sidewalk among the crowd, near the finish line, one of which happened to be dropped just a few feet away from where I was standing. The shrapnel injuries I sustained were severe enough to result in the amputation of my left leg. And my eardrums were impacted by the blast as well, causing a hole in one and the need to use hearing aids. Had anyone told me that was going to happen to me back when I was in your shoes, I would have believed that even less than if they'd told me that I'd someday be your commencement speaker! Take it from me, no matter how much planning and preparing you may do, life is just simply unpredictable.
Maybe some of you already know that. Maybe some of you have already experienced something unexpected and tragic that has altered your life in a way that you couldn't have imagined. Or maybe your life hasn't been impacted in that way yet. I say "yet", not to bring doom and gloom to this important day, but to help you understand that at some point in our lives, we'll all reflect upon something unpleasant that has happened to us, that impacted us in a way that nothing else did. Perhaps not as unexpected as a bombing, but the loss of a loved one, a divorce, an unfavorable medical diagnosis – something will be the worst thing that's ever happened to you. And I think the most valuable piece of advice that I can give you is related to what to do when it does.
Looking back at how I got from being in a hospital bed in Boston with a newly amputated leg to standing here before you in my high heels, I sum things up in three "keys to success", so to speak, that helped me along the way. I'm going to share them with you, because I believe that you, too, can use them when faced with adversity, big or small, during your lifetime. Or perhaps you'll reflect on how you may have already used them and will consider doing so again.
When I first realized that I would spend the rest of my life as an amputee, I couldn't believe what had happened to me. I couldn't stop thinking about what I could have done differently that day to alter its outcome. "What if" we hadn't left the Red Sox game early, "what if" my bad sense of direction didn't take us on a wrong turn on the walk to Boylston St. "Why me?" Why was it me who was hurt, none of the friends I was with that day were physically injured. Well, I "what if'd" and "why me'd" myself awake on more than one night. Until finally, I began to realize that there were no answers to "what if" or "why me" – I could ask and dwell all I wanted, but no one would be able to give me those answers. What had happened was completely out of my own control and the only way to move on with my life, as best I could, was to recognize what I couldn't change and let it go. Forcing myself to think ahead instead of focusing on what was behind me, was the first "key" to getting my life back.
The second "key" came by way of support. I had always been an independent person, raised as an only child with working parents, I often relied on myself to figure things out and that was the way I had lived my life. But now, an amputee and the victim of a terrorist attack, I had no idea what to do.
Everything from how to become mobile again to how to afford the medical bills I'd be faced with were all things I couldn't begin to figure out on my own. I felt scared and alone and I knew this was something I was going to need help with – a lot of help. And help came…. In so many ways.
I learned, that no matter how much damage just two people could do to the lives of many others, there were countless more people who would step in to help put those lives back together, where it was possible. I could give you any number of examples of the support I've received from others, but in the interest of you getting your hands on those diplomas sometime soon, I'll settle on a just a few.
Evidence of this type of support from strangers showed its face right away. In what was among the scariest moments of my life, I found myself on the ground after the second explosion on Boylston Street surrounded by glass, blood and people running by me - literally running for their lives, uncertain of what may come next. Aware of intense pain in my left foot, I knew I couldn't get up and run like the others were doing, I thought I may die right there on the ground… until a woman saw me and stopped. She risked her own life to help me, recognizing that I couldn't move as evidenced by the horror displayed on her face upon seeing my foot, she called her husband over and he lifted me up and carried me to safety. They waited with me until an ambulance came while others nearby tied a tourniquet around my leg which likely saved my life. Most everyone's instinct is to run from danger, but there are some, some very special people, who run towards it. And I can tell you that there are dozens and dozens of stories just like mine and Matt and Erin's, the couple who saved me, from that day.
Another important form of support came by way of our own US Veterans.
Many of those who had lost limbs in Iraq or Afghanistan, when having heard about the bombing, immediately volunteered to come to Boston through the generosity of the Semper Fi Fund, an organization dedicated to improving the lives of our Veterans. I had never met an amputee before, and I had so many questions. What does a prosthetic leg look like?, would I walk with a limp?, what would be my limitations?… so many questions and until then, not many answers. When those Veterans walked into my hospital room and told me about all the different prostheses available for running, swimming and even wearing high heels, it gave me hope – something I didn't have much of before they'd arrived. Many of us who were injured that day have kept in touch – forming bonds of friendship that have changed our outlook on life. In fact, a fellow bombing survivor and friend of mine flew to Wisconsin to surprise one of our favorite amputee Vets at his surprise 40th birthday party in December, and this veteran flies to Boston each year to spend Marathon Monday with us.
I soon began to learn that these prostheses the Veterans spoke of, available for different types of activities, were extremely expensive – tens of thousands of dollars. And that health insurance typically only covers one, basic prosthesis used for walking. Recognizing the lifetime of expenses for medical devices the victims from the bombing were faced with, former Governor Duval Patrick and former Mayor Tom Menino established the Boston One Fund, which raised over $81 million dollars. Once again, the selflessness and generosity of others this time in the form of financial support, provided me with the prostheses I needed to get back to doing all the things I'd loved before the injury.
That said, allowing myself to rely on others for support was not something that came easily to me, but it has proven to be the second key to getting my life back on track.
Finally, having success in moving on after such a terrible, infamous tragedy, I was now being asked by new amputees, the very same questions I had -- how do you navigate such unchartered waters. It was then I realized I had an opportunity to "pay it forward" – the last and, what I think is the most valuable key to my successful recovery. I decided to become an amputee peer counselor through the American Amputee Coalition, and now I am tasked with visiting new amputees, mostly women, and providing them with hope, just as those Veterans had done for me.
And, what I believe was one of the most important outcomes from this experience, was making the act of changing people's lives for the better a part of my profession. Until the bombing, I was focused on making money, having time off and moving up the corporate ladder. Until I experienced the real, life changing work of people like doctors, nurses and physical therapists myself, I hadn't realized just how meaningful the ability to make an impact on someone's life through one's work really was. And I wanted to make that a part of my own life's work. So, along with a small group of those who believed in my new-found vision, I started the Heather Abbott Foundation. Our mission is to give prostheses to limb loss victims of traumatic circumstances. And, thanks to the generosity of so many kind donors, the foundation can provide those expensive prostheses to individuals all over the country who want to run, wear high heels, and resume their lives … just as I had done. This work, my friends, is far more rewarding than any paycheck I've received, or title I've held.
So, when faced with adversity, as we all will be from time to time, consider those three keys – recognizing what can't be changed and making a decision to look forward, allowing yourself to rely on others for support… and taking the opportunity (when given) to "pay it forward". Know that you can learn from adversity and that turning lemons into lemonade is possible. With that advice and of course, your Stonehill College degree, there's nothing stopping you from writing the next chapter of your life with optimism, kindness and success, as you see it. As you're about to embark on your new careers, I'll leave you with this quote by Winston Churchill - "You make a living by what you get, but you make a life by what you give."
Thank you for giving me the opportunity to be a part of this important day in your lives, my VERY soon to be fellow Stonehill alum. Best of luck, Class of 2019.