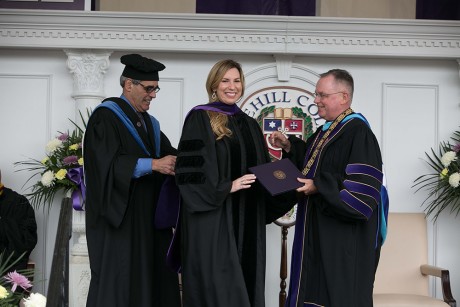 Courageous and resilient, you turned tragedy into an opportunity to serve others. You founded the Heather Abbott Foundation after surviving the Boston Marathon bombing and suffering the physical and emotional pain of losing your lower left leg. The goal of your foundation is to "pay it forward" — to provide other amputees with the kind of customized prostheses you needed to live the life you once knew, to give them the same chance to live their lives again.
You also founded the Krystle Kid's Fund to provide scholarships to Boston area children who are amputees and give them the opportunity to attend camps designed for children with disabilities. As a certified peer counselor for the American Amputee Coalition, you provide hope and healing, reminding all of us of what compassionate leadership can accomplish for those in need.
A 1996 Stonehill graduate, you have tirelessly lived our mission: to think, act, and lead with courage toward the creation of a more just and compassionate world. For your commitment to that mission, we were proud to recognize you with the President's Award for Excellence in 2015.
For your words and deeds, for sharing your pain and living your life as an example of heroism and concern for others, we are proud to bestow upon you, Heather Abbott, honoris causa, the degree of Doctor of Humane Letters.