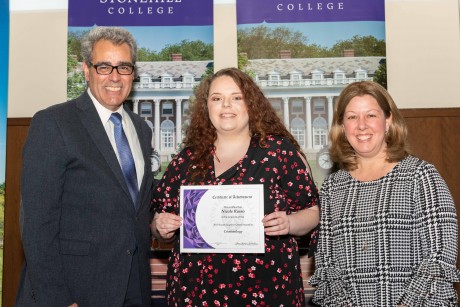 Two students in the Criminology Department at Stonehill College have been awarded the 2019 Susan Guarino-Ghezzi Award. Meaghan Gemma '19 and Nicole Russo '19 were recognized for their academic achievement as students of the year in the department.
Nicole Russo '19
Russo also graduated as a member of the Edwin Sutherland Criminology Honors Society and a Moreau Honors Scholar. She was the head resident assistant of Boland Hall, a teaching assistant for religious studies and a civic ambassador for the Martin Institute. She has worked extensively with victims of domestic violence and completed internships at the Plymouth County District Attorney's Office, Bristol County District Attorney's Office and SAFEPLAN within the Brockton District Court.  
"She embraces opportunities to draw connections across curriculum as a method to enhance justice," said Kathleen Currul-Dykeman, director of the Martin Institute for Law and Society, of Russo's intelligence and perseverance during her time at Stonehill.   
Russo will attend law school next year with a full-tuition scholarship to Suffolk Law studying criminal law and working towards becoming a prosecutor.  
Meaghan Gemma '19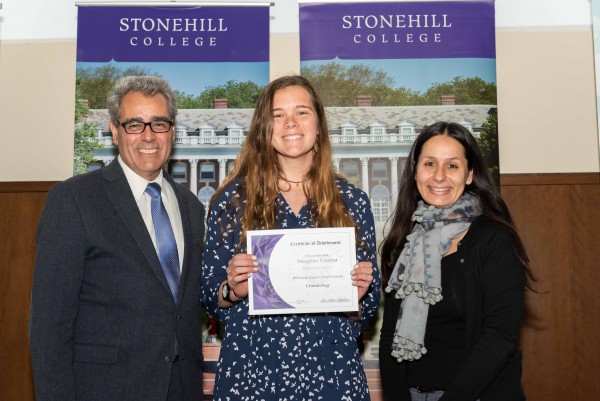 Gemma worked as a writing fellow, created new peer advising sessions for students while serving as Criminology Club president, and was a mentor through Coaching4Change and The Old Colony YMCA Mentoring Program. She also took a leading role during the 2018 campus visit by filmmaker and Pulitzer Prize winner Jamal Joseph and was the co-leader for Lead 4 Justice, a student-led, student-run conference that engages the community on issues of leadership and social justice.
"She is an exemplary student both inside and outside the classroom," said Anamika Twyman-Ghoshal, associate professor of criminology. "In addition to excelling academically, Meaghan is a natural leader who is driven by social justice."