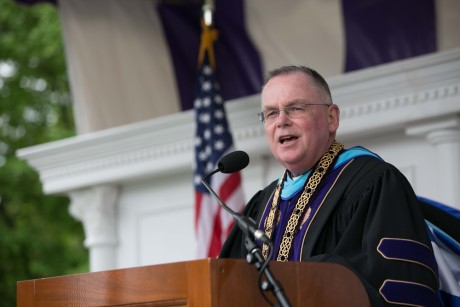 It is so good to be with you all this morning as we celebrate this milestone in your lives and the lives of our graduates. A very spirited and spirit-filled Class of 2019.
In a TED Talk I recently watched, I was struck by what Pope Francis referred to as a "revolution of tenderness."
The Holy Father used language similar to that of Blessed Basil Moreau, the founder of the Congregation of Holy Cross.
When he said that "tenderness means to use our hands and our heart to comfort the other—to take care of those in need. It is the path of choice for the strongest, most courageous men and women. Tenderness is not weakness, it is fortitude. It is the path of solidarity, the path of humility."
I think of this "revolution of tenderness" as being embodied in the lives of those we honor today.
Heather Abbott, who demonstrates the resilience of the human spirit. Recognizing the essence of solidarity where we all need to help others each day as well as be helped by others. She does this through her foundation and her countless acts of service to those who suffer limb loss. She truly exemplifies an inner fortitude and an abiding spirit of generosity.
Fr. Tom O'Hara who as educator, mentor, missionary, and pastoral leader, has helped to usher in the "revolution of tenderness" throughout our world. In Bangladesh, Uganda, as well as here in the United States. Fr. Tom is sought out by leaders in the religious, political, and educational spheres, but most especially by students for his pastoral and wise counsel. He has dedicated his life to the betterment of his neighbor, especially through his commitment to education in the Holy Cross tradition.
Dr. Carolyn Woo who as a gifted scholar and administrator at both Purdue and the University of Notre Dame and as president of Catholic Relief Services, has put her faith into action in empowering the poor to create lasting change. Her life speaks of a courageous commitment in fostering economic justice for all peoples in communities.
Each of these honorees have chosen the path of humility and solidarity. One cannot help but recognize that they have made our world a more just and compassionate place.
It is my extraordinary good fortune to know so many members of our graduating class. I have witnessed your own growth in maturity, knowledge, experience, and confidence.
As Pierrce reflected so memorably and so eloquently, "I have seen how you have chosen to use your hearts and hands to comfort one another in moments of sorrow and have reached out to take care of those in need through your commitment to service both here and in our broader community."
Please know you will always be a part of this community of Stonehill College. I pray that in your work and in your lives, you choose the path of humility and solidarity. May Mary, Queen of the Summit, watch over you in her love. And congratulations and God's blessings on you, the Class of 2019.