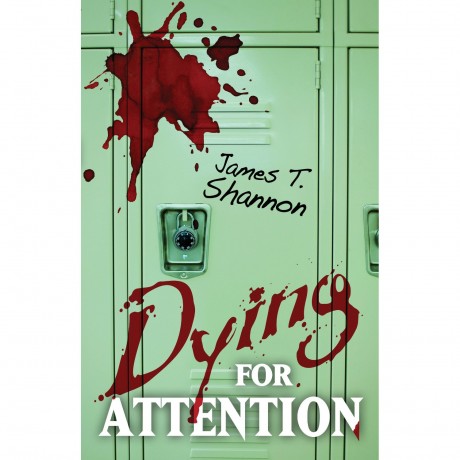 When James Shannon '65 was a freshman, he had his first short story, "The Billboard," published in The Cairn, Stonehill's literary magazine.

That first byline whet a lifelong appetite for writing and publishing. The Fall River native had several pieces published in The Cairn throughout his Stonehill career, including his parody of Alfred Noyes' poem, "The Highwayman," about a hot-rodder, which was also published in Mad Magazine.

And this month sees the publication of his first mystery novel, Dying for Attention (Five-Star Publishers.) In the book Matthew "Chug" O'Malley, a former Boston columnist and television personality, takes a job as a substitute teacher so he can write a book about a year in a typical high school. But within a very short time, two students are murdered as well as a teacher all the while, the killer keeps sending notes to Chug, telling him that he must write about the killings and make the killer famous.

Over the years, the 71-year-old retired English teacher has published a number of short stories in New England Mystery Writer anthologies, as well as in Alfred Hitchcock and Ellery Queen mystery magazines. One story, "Roundhouse Medeiros and the Jade Dragon," received the Al Blanchard Award for Best New England Mystery Story from the New England Mystery Writers Association.
For Shannon, his days writing for The Cairn bring back his fondest memories. Not only did the magazine introduce him to a lifelong passion, it led him to his lifelong love: his wife Kathy (Raposa) Shannon '68.
When Shannon was the editor of The Cairn his senior year, he was looking to recruit some new writers for his staff. One day he ran into English Professor David McCarthy in the cafeteria.

"He asked me 'How's The Cairn going?' I said, 'I could use some writers. Do you have any good freshmen writers you can send me? Turned out he did."

In October 1964, at McCarthy's suggestion, Raposa joined The Cairn.

"She was dating someone else at the time, but… I knew I wanted to date her. It had a lot to do with writing, but not all," he said with a laugh.

The two poets started dating in February of 1965. Because they both commuted from Fall River, it was easy to continue to see each other after Shannon graduated that June.


"Chet Raymo arrived as a professor at Stonehill when Kathy was senior, and he used to show foreign films on Sunday evenings in the auditorium. This was a time when French films were really big; film was becoming very popular with the literati. So it was a cool date night."

When Raposa was a senior, she became editor of The Cairn.

That year, the couple saw Pulitzer Prize-winning poet and writer Archibald MacLeish speak in Dartmouth and met him afterwards.

"I suggested to Kathy that we drive up to his house near Amherst and interview him for The Cairn. So we drove up and she interviewed him about poetry. That's a great memory," he said.

The two writers married in the summer of 1968. Shannon made the down payment on a house in Dartmouth with his Jeopardy winnings—yes, you read that right.

He won five shows in a row in 1972. "In those days, you had to quit after five. Five was it. But the money was payment enough for the house that we're living in now," he said with a laugh.

Shannon retired in 2002 from Old Rochester Regional High School after 34 years of teaching. He still teaches English part-time at Bristol Community College in Fall River.

"I was very influenced by Fr. Keena, who was head of the English Department when I was at Stonehill," he said. "All us English majors had to take a year of Shakespeare with him; that was an eye-opener for me."
In the 1990s, Shannon's wife published 15 romance books for Harlequin under the penname "Shannon Waverly." Meanwhile, her husband concentrated on mysteries and noir short stories—many of them set in Fall River or in the Boston suburbs.
The couple have two children, Jessica and Christopher, who graduated from Stonehill in 1991.
For more on Shannon's book, or to purchase a copy, click here: http://www.amazon.com/Dying-Attention-Five-Mystery-Series/dp/1432827510