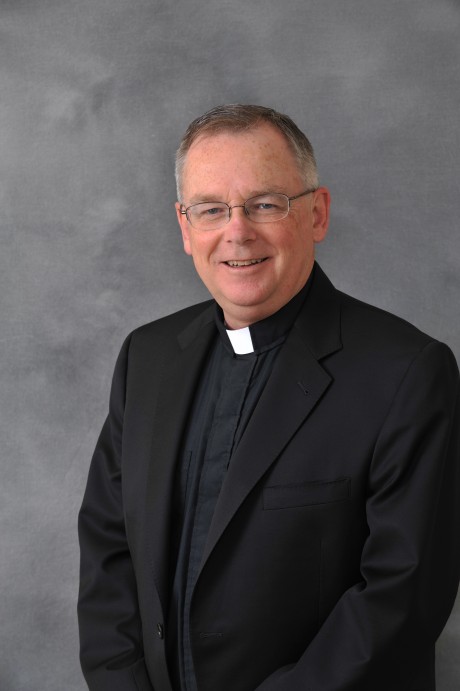 After 13 years of working at the College, most recently as the Vice President for Student Affairs in the Duffy Academic Building, today Rev. John Denning, C.S.C. moves into his new office in Donahue Hall to begin his tenure as President of Stonehill.
Elected by the Board of Trustees in May, Fr. Denning is the tenth president in the College's 65-year history.
During the presidential search process, Fr. Denning shared with the College community that he wanted to be President because he believes in Stonehill's wonderful story, especially "its mission of providing for each Stonehill student a learning experience that transcends the classroom for the good of the broader community and fosters a hunger to build a just and compassionate world."
Educating the Mind and the Heart
When he assumed office earlier today, July 1, Fr. Denning reiterated his commitment to the Holy Cross philosophy of educating the mind and the heart.
"As I step into this new role, I am eager to build on the strengths of our community of scholarship and faith. Looking ahead, I want to further develop our strong academic reputation, deepen our commitment to diversity, and enhance our Catholic character," he said.
While higher education today is not without its challenges, Fr. Denning said that he has great confidence in those who serve and support the College's educational mission.
Spirit of Dedication
"Now in our 65th year, we are still a relatively young institution and, while we have made major strides forward in that time, I believe that our best years are still ahead of us. I base my confidence on the spirit of dedication I see across our campus and the talented individuals who teach, mentor, and represent the College at all levels," he said.
Over the summer, Fr. Denning indicated that he will focus on acclimating himself to his new role. He noted that the College's senior leadership will hold a two-day retreat later this summer to plan for the start of the academic year and to review institutional goals and objectives.
"I am fortunate in that I know and respect our senior leaders, as we have been colleagues for many years, and we will be working to ensure a smooth and effective transition at a senior level. Also over the summer, I would like to reach out to our off-campus constituencies, especially alumni, neighbors and friends of the College," he said.
Inauguration
As for his inauguration, Fr. Denning hopes that the event will be a celebration of students and an opportunity for the College community to come together. The official Inauguration Ceremony is scheduled for Friday, September 20th, and there will be additional celebratory events scheduled leading up to this event.
Asked what will guide his work as President, Fr. Denning noted, "When I was in Student Affairs and Mission, I worked to shape an attitude of always centering on what is in the best interest of the individual student to assure his or her success. As President, I plan to keep this principle front and center as we make our decisions and set out priorities."