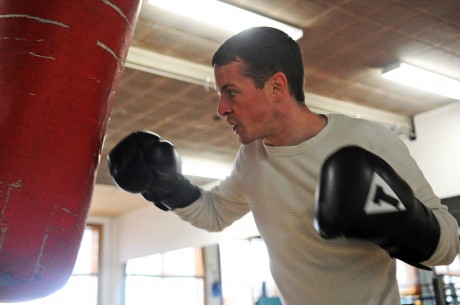 Jason Lynch is not comfortable doing things the easy way.
He's a runner, a boxer, and a fierce competitor. He graduated summa cum laude from Stonehill in 2011, but continued his studies for an extra semester to better his chances for post-graduate opportunities. Then, while many of his peers moved on to well-paying positions in New York or Boston, Lynch chose to serve the community and was accepted to a yearlong AmeriCorps program.
"Stonehill's Catholic values definitely helped foster a spirit of compassion and integrity for me," Lynch says. "The school's emphasis on service was very strong and came through in a lot of ways like internships, classes, and volunteer opportunities." Today, Lynch works full-time for the Massachusetts/New Hampshire chapter of the Alzheimer's Association while also running a budding non-profit for disadvantaged youth in Brockton, Mass.
What drives this 23-year-old alumnus to instinctively strive for excellence and service in all he does? "I am very lucky for what I've been given in my life," Lynch explains. "I have a responsibility to give back. I want to make proud all the people who believed in me."
Becoming a Skyhawk
A standout three-season athlete through high school, Lynch was recruited by Stonehill to run for the track program. After two successful years competing as a Skyhawk, including a trip to the NCAA national championships as a sophomore, Lynch was named captain of the College's track and cross country teams.
"I've always been really passionate about track and have worked hard at it since middle school. College provided even more of a challenge and a very competitive running environment," Lynch says.
Just when things seemed to be on an upward trajectory, Lynch suffered a knee injury that landed him on the sidelines for his junior year. He went to no fewer than 19 doctors and specialists and worked tirelessly at recovery, but the problem ended his collegiate running career.
"It was more frustrating than I can describe," he says. "I have a bit of a compulsive personality, which is probably why I find running so appealing. It was virtually all I thought about before my injury, so it was a harsh transition once I came to grips with it. I needed something to fill the void. That's when I became more serious about schoolwork as an outlet to focus my energy."
Academic turning point
Initially, Lynch centered his attention at college on athletic accomplishments. Although he always did well in his classes, Lynch admits that he wasn't passionate about his studies. That all changed when he enrolled in a Learning Community (LC).
A hallmark of Stonehill's Cornerstone Program, an LC is a pair of classes that centers on an interdisciplinary theme taken by a common cohort of students. Lynch's LC focused on Irish politics and literature, culminating in a 9-day trip to Ireland with his classmates. The group's travels included a stop in Derry, a city in Northern Ireland that had endured years of internal fighting and violence.
"The LC was a turning point for me," Lynch says. "We met with families of people killed during the Bloody Sunday Massacre in Derry. They gave us a walking tour of the city and described what it was like. One person had lost his 16-year-old brother and pointed out exactly where it happened."
The students also met with Nobel Peace Prize recipient John Hume and were able to ask him questions about Ireland's political struggles. "It made what we were learning about come alive. After that, I was really invested in my studies," Lynch says.
A passion for peace
Not long after returning from Ireland, Lynch began working closely with Stonehill faculty and advisors to create a secondary major. His primary major was English, but he also wanted to continue to explore how different communities of the world intersected. Lynch was able to design a dual major in Interdisciplinary Studies with a concentration in Peace and Conflict Studies.
"One thing that appealed to me most about Stonehill is that it empowers students to seek out opportunities to do what they are passionate about," Lynch says.
For example, Lynch collaborated closely with Associate Professor of English Rev. George Piggford, C.S.C., on a Stonehill Undergraduate Research Experience (S.U.R.E) about psychoanalytic theory and the works of Flannery O'Connor.
Associate Professor of Political Science Anna Ohanyan also was an inspiration to Lynch. "She is one of the smartest people I have ever met," Lynch says. Ohanyan connected Lynch with the University for Peace in Costa Rica where he internedduring the summer of 2011. At UPEACE, Lynch worked with students from more than 60 countries to examine solutions to promote world peace.
"At school, there can be a disconnect with the real world," Lynch says. "For me the experiences in Costa Rica and Ireland broke that disconnect."
City of Champions
After Stonehill, Lynch was accepted into the AmeriCorps VISTA program and served as a communication and development associate for The Charity Guild in Brockton, Mass. Lynch worked on events and corporate sponsorships for the group while living off a small stipend.
He was renting an apartment from Mike Cappiello, owner of the famed Cappiello's gym that was established in honor of boxing legend Rocky Marciano. Lynch had started boxing at the gym and became friendly with Cappiello, a former boxing pro and a special education teacher at Easton Middle School. His time at the gym gave Lynch an idea for a way he could make a difference in the life of underprivileged youth. "I had been in the gym a month or two; boxing was keeping me focused," he explains. "I thought it could also function as a positive outlet for kids coming from tough situations."
Funded by the Samuel Huntington Public Service Award, Lynch created the Champions Project in 2012 to pair city youth with tutors and boxing trainers. It helps them to succeed academically while keeping them engaged and motivated through athletics.
The name of the program reflects Brockton's nickname "The City of Champions," which comes from the success of Marciano and fellow native boxer Marvelous Marvin Hagler. "The program also aims to develop a "champion's mindset" – that's really the main goal. I think having confidence and positive outlook can make you more successful than almost anything else," Lynch says.
Something to be proud of
In its first year, the Champions Project attracted about 15 students and young adults. One participant raised his SAT scores by 300 points. Another student used the program for academic and emotional support while wrestling with the challenges of teen pregnancy. Yet another member of the group, after dropping out of high school and battling drug addiction, studied for and aced his GED.
Current Stonehill students are also benefiting from the program by gaining off-campus experiences and serving the College's neighboring community. Hannah Krueger '16 joined several Stonehill students who worked with Lynch as tutor for the Champions Project this year. "This has been a tremendous experience for me. I have created relationships with these students that I would have never expected," Krueger says. "The passion Jason has for serving the community is unlike anything I have ever seen. He is a constant reminder of how far passion can take you."
Lynch says that there have been some ups and downs to building the program, and that implementing a good idea can be difficult, but it's worth it. "This past year I was able to go out of my comfort zone, to take on challenges and frustrations," he says. "I'm proud of the fact that I didn't take the conventional route. It's important for me not to take the world for granted or ignore people who need help."
Paying it forward
A desire to give back to those in need is a direct testament to the people who have helped him along the way, Lynch says. He owes a debt of gratitude to people like Thomas Shields, former chairman of Stonehill's Board of Trustees, who sponsors a Merit Scholarship with his wife, Mary. The Shields family supported Lynch through his entire college career. "[Mr. Shields] believed in me 100 percent. For me, having that kind of help has given me a sense of commitment to help others. "
He says the same of Jennifer Huntington, who made the decision to fund the Champions Project in her late husband's name through the Samuel Huntington Public Service Award. "When people start to believe in you and give you support, you begin to believe in yourself. And you have an obligation to go for it, to take a risk," he says.
Finally, he credits support from faculty and staff at Stonehill: "Students at Stonehill are given the confidence and the entrepreneurial skills to go out and create an opportunity. Without these lessons I'm not sure I would have started the Champions Project. I came to school less interested in academics and more focused on the athletic component, but Stonehill helped >me develop a much more complete way of thinking."