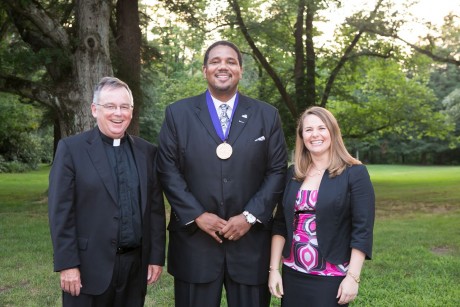 Charismatic basketball coach Edward Cooley '94 received the Outstanding Alumnus Award at a ceremony in Donahue Hall on Friday, August 2 . In honoring Cooley, who is currently reviving the fortunes of Providence College's men's basketball program, the Alumni Council's awards committee cited his well-noted success as a coach whose leadership inspires players to be their best both on and off the court.
The Outstanding Alumnus Award is presented to a graduate who has contributed significantly to his professional field and has brought honor to his alma mater. Alumni Council President Catherine Campbell '96 hailed Cooley for the example he sets for "young males not just as athletes but also in the game of life."
In his first major event as President, Rev. John Denning, C.S.C. told Cooley: "In guiding your players, you always tell them to be teammates, to collaborate and to help each other. Off the court, you live by the same principle. You give back to your community and you care about others. That is why so many of your classmates, former teammates, colleagues and friends speak so fulsomely about your loyalty and compassion."
The first African American to receive Stonehill's Outstanding Alumnus Award, Cooley noted that he does not want coaching to define him because "it's just a job and anyone can call a play or a timeout." What is important to him is "being a better dad, husband, leader and mentor." He gave credit to his wife Nurys for her support and patience and for all she does in raising their children Isaiah and Olivia. He also saluted many at Stonehill who had faith in him as a student and who made him feel welcome, helping him to find the right path for becoming the man he wanted to be.
The Friars' head coach since 2011, Cooley signed a contract extension in April after leading the team to the NIT Quarterfinals this past season. As head coach at Fairfield University, he won the Ben Jobe National Coach of the Year Award, presented to the nation's top minority men's college basketball coach. He has won the MAAC Coach of the Year and earned U.S. Basketball Writers Association District I Coach of the Year honors. In 2012, he was inducted into the Boys and Girls Club of Providence Alumni Hall of Fame.
At Stonehill, Cooley was a three-year captain for the basketball team and an assistant coach during the 1995-96 season.