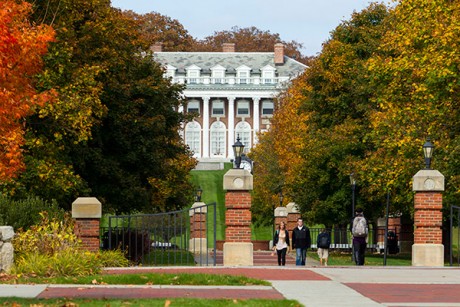 The President of Stonehill College, Rev. John Denning, C.S.C. will be the guest of honor when the Easton Historical Society hosts a Celebration of Stonehill at its open house on Sunday, April 13. Free and open to the public, the event will run from 1 p.m. to 5 p.m. with Fr. Denning in attendance starting at 2 p.m. The event will take place at the Society's headquarters at 80 Mechanic Street in North Easton.
"Since 1948, when Stonehill first opened for classes, the College has been a major part of Easton's history and, with Fr. Denning in his first year as president, we felt it was a good time to highlight the College's 66-year history and its relationship with the Town," explained Society Curator Frank Meninno.
As part of the event, the College's Archives Department will display Stonehill artifacts, photos, memorabilia and publications highlighting the College's history.
"In 1948, the College had a couple of buildings, a class of 120 students and about 13 employees. Today, it has over 30 buildings, a student population of about 2,500 and more than 700 employees. At present, 496 Stonehill alumni live in Easton as do 106 employees," noted Easton Historical Society President Ken Michel, a member of Stonehill's Class of 1968.
Fr. Denning became the tenth president of the College in July of last year. Before that, he served as Stonehill's Vice President for Student Affairs, Vice President for Mission and Director of Campus Ministry. Fr. Denning lives on campus and is active in local affairs, serving on the boards of My Brother's Keeper in Easton and Father Bill's & MainSpring Coalition for the Homeless in Brockton
Like Stonehill, the Easton Historical Society started in 1948. It is dedicated to preserving, promoting and interpreting the unique industrial, social, cultural, architectural and environmental history of the town.
Stonehill is a selective Catholic college located on a beautiful 384-acre campus in Easton, Massachusetts. With a student-faculty ratio of 13:1, the College engages over 2,500 students in 80+ rigorous academic programs in the liberal arts, sciences, and pre-professional fields. The Stonehill community helps students to develop the knowledge, skills, and character to meet their professional goals and to live lives of purpose and integrity.
For more information, contact Martin McGovern, director of communications at Stonehill, at 508-565-1070 or Frank Meninno, curator at the Easton Historical Society, at 508-238-7774.