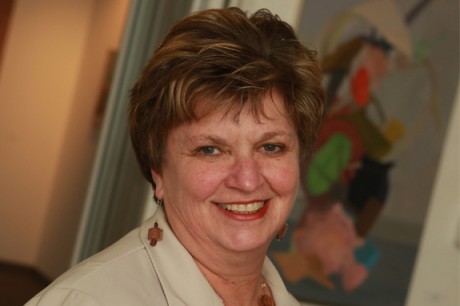 The Cushing Martin Art Gallery will be renamed in honor of the late Professor Carole Calo, who is credited with making the Visual and Performing Arts Department a vibrant Stonehill program.
Calo, an art history professor, passed away Feb. 9 last year following a battle with cancer.
"Carole started all of this that you see down here in the Cushing Martin. This is all her," said Professor Allyson Sheckler, chairperson of the Visual and Performing Arts department.
Calo worked tirelessly to create the vibrant programs that now make up the department of the visual and performing arts, she said.
Calo taught primarily modern and contemporary art history, as well as some thematic-based courses and was an inspiration to students.
"As a Studio Art major, Professor Calo was my faculty advisor, professor, and friend. She really encouraged me to go abroad to Florence for a semester. Her eyes would light up as she told me about the incredible art I would see, the amazing Italian culture, and the growth I would have as an artist and a person," senior Laura Klacik said.
The Cushing Martin Art Gallery was a focal point of Calo's many contributions to establishing the arts at the college. The student curated art gallery is an area where both professionals and student can show case work.
Calo developed an art history capstone course called Exhibitions and Collections which allows for students to put together their own art gallery.
"It's an inside look were students curate a professional artist show in the gallery. That particular course is now copied by other colleges who do similar things for their students by using their college galleries," Sheckler said.
Planning for the dedication began last July. Faculty from the Visual and Performing Art, Communication and English departments agreed the art gallery should be named in Calo's honor. A proposal was sent to Provost Joseph Favazza, and then forwarded to President John Denning. The Board of Trustees then approved it.
"Our department is very thrilled that the college felt that Carole deserved this honor, because she did. Now, we are having the dedication ceremony on Thursday, March 27 at 6 p.m. in the gallery," Sheckler said.
"I am very thankful for her dedication to the arts at Stonehill because without her guidance and encouragement, I would not be who I am today. Calo was the best example of a person who loved her life, family, and career, and she is truly missed," Sheckler said.
The Summit
by Amanda Egesi '14