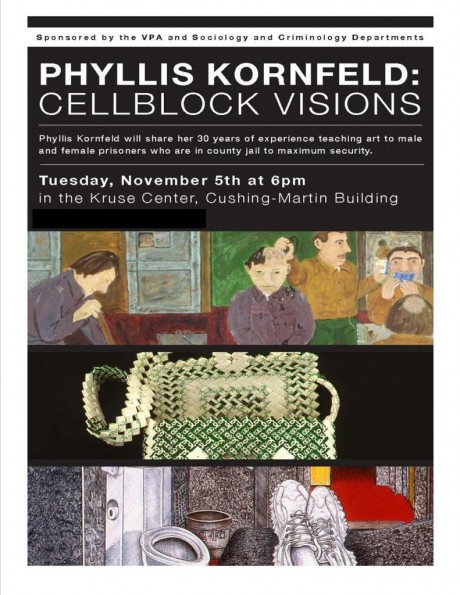 Prison art specialist Phyllis Kornfeld will lead a discussion at the Kruse Center in the Cushing-Martin building on Tuesday, November 5th at 6 p.m. Sponsored by the Stonehill Sociology & Criminlogy Department as well as the Visual & Performing Arts Department, Kornfeld's talk will focus on her 30+ years of experience teaching art to male and female prisoners.
Kornfeld will discuss her personal experience with the artists, their processes, and the prison environment in which the work was created
After spending over 20 years teaching art to youth of all ages, from kindergarteners to junior college students, she applied for and was hired as an art teacher for prisoners at three Oklahoma penitentiaries.
Kornfeld believes art is a "natural human impulse and everybody has the potential but often, internal and external life events block the access."
"I try not to get in the way of the inmate's natural expression, no conventional "lessons" or the imposition of my own concepts and techniques. So many of the prisoners are overtaken with creative force as soon as they get their hands on the materials, and all I have to do is get out of the way. With others, I have found ways to help them free themselves from their ideas," Kornfeld explains.
In 1997, she published Cellblock Visions, which showcases the work of her inmate students. The book also includes quotes from the prisoners and Kornfeld's own anecdotes. "The book shows how these artists, most of them having no previous training, turn to their work for a sense of self-worth, an opportunity to vent rage, or a way to find peace," says Kornfeld.
From painting to toilet-paper sculpture, the works of prisoners range from awkward attempts to amazing displays of virtuosity.