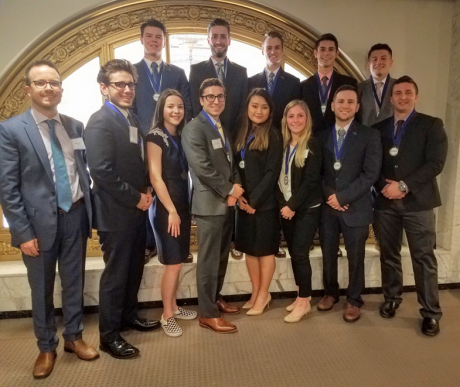 After successfully presenting business case studies before experienced corporate executives and against other schools at Bay State College recently, 12 Stonehill business students will represent the College at the Distributive Education Clubs of America (DECA) International Career Development Conference in Florida this April.
The students are members of the College's Chapter of DECA, which prepares emerging student leaders and entrepreneurs for careers in marketing, finance, hospitality and management in high schools and colleges around the globe.
Founded about four years ago by Co-Presidents Madalyn Fernbach '19 and Domenic Dellamano '19, the Chapter has grown to over 50 members under their leadership.
"The success of our students at such a competitive level is a testimony to the high quality of business education at Stonehill and to the dedication and ability of our DECA Chapter members," said Assistant Professor of Management Information Michael Salé who is also the Faculty Advisor to the Chapter.
"We must also recognize what Madalyn and Domenic have achieved in establishing and building this Chapter, which gives our Business students the opportunity to really enhance their career knowledge and skills as well as engage with business executives in the field. They have shown great initiative. As a result, other students are getting a valuable competitive advantage" added Salé.