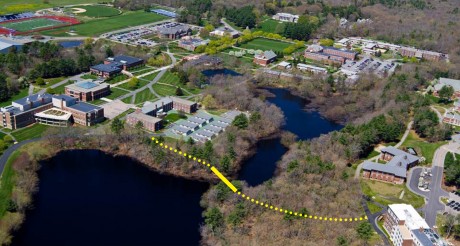 Further unifying the campus on a pedestrian level is part of the College's master plan and, to that end, work has begun on building a bridge across Ames Pond.
The yet-to-be named bridge will cross Ames Pond at its closest point, connecting the area around Cardinal O'Hara Hall and the south quad with the four residence halls on the east side of campus. That area is also home to the Roche Dining Commons.
"The bridge will improve access to the east and west sides of our campus. It will also make the College even more pedestrian friendly than it is already," said Paul Ricci, Associate Director of Grounds Operations.
Sitting about nine feet above the water, the bridge will be 10 feet wide and 110 feet long. On either side, there will be a porous asphalt pathway and a boardwalk leading to the wooden bridge, which will be made of southern yellow pine (example pictured left).
York Bridge Concepts of Florida designed the bridge and will build it. The G. Greene Construction Company of Boston is responsible for excavating brush, clearing trees and stumps, wetland protection, grading and landscaping. The landscape architect is the S/L/A/M Collaborative, which has worked on other projects at the College.
Approved by Easton's Conservation Commission, the project, which began in mid-July, is scheduled to be completed and ready for use in mid-October.