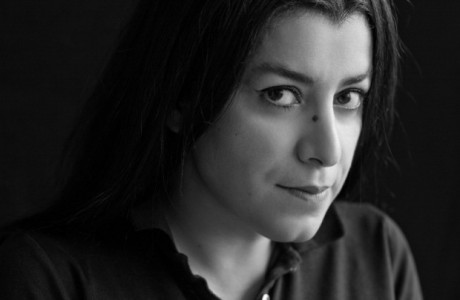 International award-winning cartoonist, film director, and children's book author Marjane Satrapi will be this year's featured guest at the annual Chet Raymo Literary Series Lecture on Wednesday, October 16th. Her talk, which is free and open to the public, will begin at 6 p.m. in the Pettit Atrium of the Shields Science Center with a book signing to follow.
Satrapi was born in Iran, growing up during the tumultuous Iranian Revolution era. Her parents, fearing the new public codes for women, arranged for her to study in Austria during her high school years. She eventually returned to Iran to study visual communication in college and went on to earn a master's degree from Islamic Azad University in Tehran.
In 1997, Satrapi moved to Paris where she met Christophe Blain. There he brought her into l'Atelier des Vosges, home to many of France's celebrated "new wave" of comic book artists. After telling stories of her childhood in Iran, from dethroned emperors to heroes of the revolution, they encouraged her to translate her life onto the pages of a comic book.
Soon after, she began production of her four-part novel Persepolis, which depicts her life in Iran in the 70s and 80s. The work was published between 2000 and 2004 to critical acclaim in France and was eventually published in the United States in 2003 and 2004. Persepolis was named one of the "100 Best Books of the Decade" by The Times (London) and has been translated into 40 languages.
In 2007, Satrapi co-wrote and co-directed the film adaptation of Persepolis, winning the Special Jury Prize at the Cannes Film Festival. In 2008, Persepolis garnered an Academy Award nomination for "Best Animated Film." Satrapi and the film were nominated for Best Animated Feature at the Academy Awards, as she became the first woman ever to earn a nomination in that category.
In 2006, her next major work, Chicken with Plums, was translated and published in the United States. The novel traces the last five days of one of Satrapi's relatives during November 1958 in Tehran. The book won numerous awards, including the esteemed Angoulême Album of the Year award at the Angoulême International Comics Festival.
Satrapi and director Vincent Paronnaud, with whom she co-directed Persepolis, teamed up again in the film adaptation of Chicken with Plums. The film, tracing the life of an Iranian violinist who wishes to die after he can no longer play music, was released in France in 2011 and in the U.S. a year later.
Satrapi has also continued her artistic work, as her first painting exhibition was displayed at the Galerie Jerôme de Noir­mont in Janurary. Her latest film, Gang of the Jotas, debuted in France in February of 2013, and appeared at the Rome International Film Festival in April.
About the Chet Raymo Literary Series Lecture
Entering its 13th year, the Chet Raymo Literary Series is an annual event that brings significant writers of poetry, fiction or non-fiction to Stonehill's campus to share their work and to speak about the art of writing. Raymo, one of Stonehill's most celebrated professors, is Professor Emeritus of Physics and Astronomy at the College and is the noted author of 18 books, including When God Is Gone, Everything Is Holy.