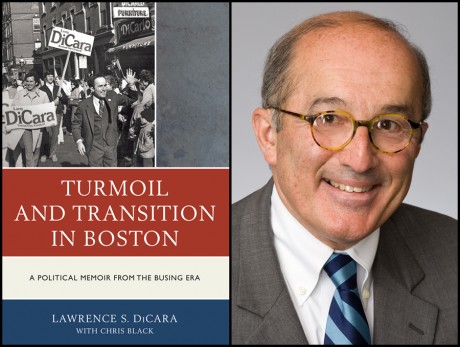 Former Boston City Council member Lawrence DiCara will visit Stonehill College on Tuesday, November 19th at 12 noon to discuss his new book Turmoil & Transition in Boston: A Political Memoir from the Busing Era.
The youngest person ever elected to the Boston City Council, DiCara was a member of the Council from 1972 to 1981 during Boston's tumultuous busing crisis. In 1983 he was a candidate for Mayor of Boston and in 1992 he was a candidate for Chairman of the Massachusetts Democratic Party.
In his book, DiCara chronicles his life during his political career and shows how public policy decisions and economic and demographic changes during that time transformed Boston into one of America's most diverse, affluent, and successful cities in the 21st century.
"Larry DiCara's journey is a rich tale of the American Dream in what a true Bostonian knows to be America's greatest city. From the somehow always optimistic struggles of its new immigrants, through the raw divides of the busing era, to its gleaming renaissance, Larry's vivid memory and middle-of-it-all experience offers a behind the curtain history of a public servant always mindful of the proud family that shaped him, and always dedicated to the city whose blue collar blood shapes its sports, its politics, and its people. A great character and player in such an important era for our city helps us relive its highs—and lows—and reminds of the resilience of a great community comes from the resilience of its people," said John King, chief national correspondent for CNN, about Turmoil & Transition in Boston.
DiCara was born in Dorchester, Mass. and went on to graduate from the Boston Latin School and earn degrees from University of Massachusetts, Harvard University, John F. Kennedy School of Government, Suffolk University Law School, and Harvard College.
Currently a partner at Nixon Peabody, a Global 100 law firm, DiCara practices real estate and administrative law. He is the recipient of the Judge Learned Hand Award from the AJC, the Father of the Year Award from the ADA, and a Lifetime Achievement Award from the Massachusetts Boys State/Girls State Foundation.