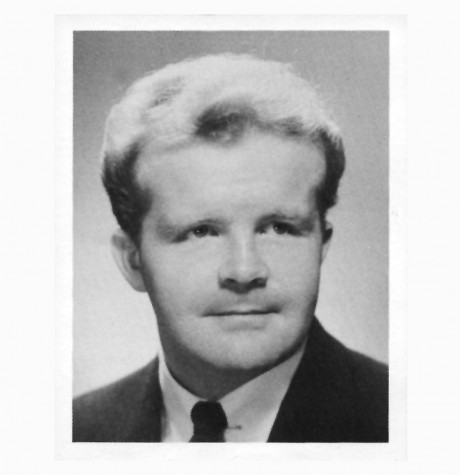 When Ed Roster (photo right) graduated from Stonehill in 1958, there were four buildings on campus the old Science Center, Donahue Hall, Duffy, and Alumni Hall. Having completed a year in the seminary and four years in the U.S. Navy, he entered as a sophomore. Fifty-five years later, Roster reflects on his first class at the College.

After high school I did one year in the Seminary. I decided that the clerical life was not for me and I enlisted in the Navy in September 1951.
In September 1955 I was released from active duty in the United States Navy Air Corps. Somehow I had an application that was filed with Stonehill College (I think my mother took the entrance exam).
I was released from the Navy Air Corps on Friday at noontime in Sanford, Florida. I had to start Stonehill the following Monday at 8:00 AM. I drove in my little Studebaker on Friday, Saturday and Sunday. On Monday, I arrived at the Stonehill campus for the first time. The first class that I had was (unbeknownst to me) an advanced French class. Mademoiselle Marguerite Antoine (pictured below) blew into the room at approximately 8:05 with a "Bonjour Monsieurs and Mademoiselles." Then she started (in French) quizzing the students as to what French novels they had read in the preceding summer.
I was completely at sea and could only get glimpses of what she was talking about, but even more impressive were that the students were talking back to Mademoiselle Antoine in French! I went home and told my mother that I was going to go back into the Navy; that the students at Stonehill were far too smart and far too advanced for me. My mother suggested that I speak to Father James Doyle, C.S.C. On Tuesday I did speak with Father Doyle and told him about my difficulties. He looked at the appropriate paperwork and exclaimed "Oh My God! I've got you in with the French majors! I will put you in with the Irishmen!"
Either later that day or the next day, I was in the French class with the Irishmen. Mademoiselle Antoine blew into the classroom and started speaking French to the assembled Irish students. I was able to respond to Mademoiselle Antoine with a "Bonjour."
Thereafter, I was a star Irishman and I stayed at Stonehill to my great pleasure. I never had to apologize for my Stonehill education and I believe it well-qualified me to graduate from law school and practice law.
Note: After Stonehill, Roster was accepted to Harvard and Yale but went on to graduate from Boston College Law School in 1961. He has served in state and local government, including Assistant District Attorney. Today, he is a partner in Roster and Antine, a general practice law firm in Taunton. His daughter Kathleen (Roster) Storm graduated from Stonehill in 1987