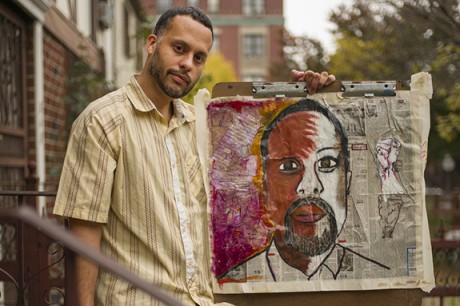 Kelvin Ramirez '01 is an art therapist…not a filmmaker. But lately he's found himself immersed in the movie business. As the producer of Art Therapy: The Movie, Ramirez has found a new outlet for his passion of using art to help people heal.
Art Therapy: The Movie was inspired by trips Ramirez led to the Dominican Republic and Nicaragua while studying for his doctorate in expressive therapies at Lesley University, in Cambridge.
"For me, this film is about manifesting those things in my life that I'm passionate about, particularly artistic expression and social justice. Art therapy is really a creatively orientated approach to empowering people to explore artistic ways of addressing or resolving issues and problems," says Ramirez.
In the Dominican Republic, Ramirez's group provided art therapy to more than 200 orphans, but also worked with community leaders and a local foundation to provide meals to the children and diabetes testing to over 130 adults. Ramirez had the trip documented and the seeds of Art Therapy: The Movie were sown.
A Passion Uncovered
Born in the Dominican Republic, Ramirez grew up in the South Bronx. Even before he graduated high school, he'd seen his share of poverty and suffering. When he came to Stonehill first, he struggled to adjust and it took a HOPE trip to Peru to show him that he could use his love of art to make a difference. He recalls the impact of that HOPE trip.
"In Peru, I encountered poverty for the first time from an intellectual and moral perspective. I had to ask myself tough questions—what's my responsibility in response to such injustice and how do I become a better global citizen. I was in a daze during my freshman year and squandered opportunities. After Peru, second semester sophomore year, I could not do that anymore and started investing myself in my studies. I went from drinking to painting."
The Fine Arts major notes that, to avoid temptation on Thursday, Friday and Saturday nights, he retreated to a small studio in the library where he would paint until the early hours of the morning. This was something that his Fine Arts professors encouraged him to do, helping him obtain after-hours access to the studio.
Mentored at Stonehill
"Artistically, Stonehill was the bedrock of my training and inspiration," he says. "Professors Carole Calo, Candice Walters, Shane Savage-Rumbaugh, and Mary Jean Viano Crowe were instrumental in my development."
Through mentoring from Stonehill's Fine Arts faculty, Ramirez learned to open up and express himself. He enjoyed the challenge of finding his artistic voice or vision and he loved immersing himself in the history of art while perfecting his technique.
When a unique trip to Cuba became a possibility for him as a Stonehill student, Ramirez says that he found great support and encouragement from the staff in the financial aid office, who worked with him to troubleshoot the needed paperwork.
Healing Power of Human Expression
"As an art therapist, I truly believe in the healing power of human expression. I would love to increase awareness of art therapy. The idealist in me hopes that the film conveys a level of compassion that's contagious. That people are inspired to follow their passions and create their own opportunities from which they can affect change."
To fund the project, Ramirez turned to the public and Internet fundraising. In one month, his campaign raised $20,000 from nearly 500 backers. This money will go a long way to helping Ramirez and his team to complete the film.
With funding in place, Ramirez plans to feature art therapy efforts around the world, such as art rehabilitation programs serving inner-city youth in North America, and how art is helping people heal in the wake of devastating natural disasters in Japan and India.
Art Therapy: The Movie will be released in spring 2014. For more on the movie, visit http://www.arttherapythemovie.com/. To learn more about Ramirez, visit www.kelvinramirez.com.