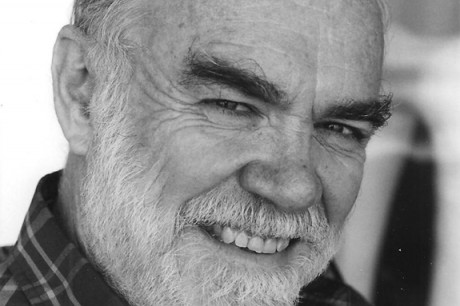 The author of the critically-acclaimed new biography of Norman Mailer is J. Michael Lennon '63, an English major at Stonehill and a contributor to The Cairn, the student literary magazine.
Although Lennon (right) had been a fan of Mailer's work since he was in high school, it wasn't until he arrived at Stonehill in the fall of 1959 that he came into his own as a writer and as a critical reader.
"I read The Naked and The Dead for the first time on my own as a freshman—Mailer wasn't being taught yet in colleges—but with the combination of courses I was in…and encouragement from Stonehill professors… I really began to grow at Stonehill," said Lennon, 71, of Westport, Mass.
A commuter student, Lennon grew up in Fall River and Somerset. During his senior year, he and two other classmates -- Charlie Van Buskirk and Jay Clark -- lived in a cottage in Easton.
Lennon's 900-page Norman Mailer: A Double Life (Simon and Schuster) is being widely-praised as the definitive biography of one of America's greatest literary talents of the 20th century.
The New York Times Sunday Book Review recently noted that "Lennon is a fluid writer, and he's done his homework. There's not a paragraph in this enormous book that doesn't contain a nugget of something you should have known or wish you had known. Lennon has it all, and he has it down."
GREAT ENCOURAGEMENT AT STONEHILL
Lennon (left, in his yearbook photo) credits professors and Holy Cross priests from the College's early years for the intellectual mentorship he received during his student years.
"I was given great encouragement by English Professors Brasil Fitzgerald, Peter Lucchesi, and Father Joseph Keena, C.S.C., who was a key figure for me and taught me Shakespeare and Literary Criticism," said Lennon, an Emeritus Professor of English at Wilkes University in Pennsylvania.
A history minor at Stonehill, Lennon added, "I had great history courses with History Professor James Kenneally—I almost became a history professor because of him."

"Professor David McCarthy, I had for the English Novel; he was such an intelligent, great guy; and that was an important course for me. Professor Lucchesi was a favorite of mine… We used to smoke cigarettes and eat donuts with English Father Robert Griffin, C.S.C. A lot of old Stonehill people will remember Griffin," Lennon said with a chuckle.
DRAMATIC SCENES
Asked if he had any advice for students who aspire to be writers, Lennon said, "If you want to be a writer, pay heed to how great writers create dramatic scenes."
After graduating from Stonehill at age 20, Lennon served in the U.S. Navy during the Vietnam War. He later went to grad school at the University of Rhode Island in the early 1970s and wrote his doctoral thesis on the classic Mailer book he first read at Stonehill: The Naked and the Dead.
THE ROOTS OF THE FRIENDSHIP
After seeing Mailer and rival Gore Vidal argue on The Dick Cavett show in 1971, Lennon wrote Mailer a letter sympathizing with him, and discussing his thesis—he never expected that Mailer would write back.
When Lennon became a professor himself, he took a class to see Mailer talk. After mentioning that letter to Mailer, the two writers went to a bar to grab a drink and ended up closing the place down. A life-long friendship was born.
Lennon and his wife Donna even bought a summer house in Provincetown, next to Mailer's home. Before Mailer died in 2007 at age 84 of acute renal failure, the writer appointed the Stonehill alumnus with an epic task: To write his official biography.
MAILER, THE WRITER
A journalist, essayist, playwright, film-maker, actor, writer and political candidate, Mailer was prolific. His best work is widely considered to be The Executioner's Song, (1979) which won him his first of two Pulitzer Prizes. His Armies of the Night was awarded the National Book Award.
Like Hunter S. Thompson, Mailer wrote creative nonfiction, sometimes called Gonzo journalism, and was also known for his essays. In 1955, Mailer co-founded The Village Voice, an arts and politics-oriented weekly newspaper in Greenwich Village.
THE RESEARCH
Lennon was granted unlimited access to Mailer's 48,000 letters—most of which had never seen the light of day. He interviewed some 85 people, including Mailer's sister, nephew, wives—there were six— his kids—there are nine—editors, friends, and a handful of Mailer's many mistresses, which are "uncountable," Lennon said.
Indeed, Mailer was a serial husband and father, which affected his wallet—at one time he was supporting 14 people, and had six kids in college.
He was also a serial philanderer: "Women were very attracted to him. I've been with him many times, and women were around him like bees around honey; I had to shoo them away sometimes," Lennon said.
Lennon also writes about Mailer's infamous feud with Gore Vidal, including their heated debate on The Dick Cavett Show, and the head-butting incident at a big New York City party: "Vidal came in and Mailer…threw a drink and the glass in his face, grabbed Vidal by the lapels and head-butted him. He liked to head-butt," he said.
Lennon, the former president of The Norman Mailer Society, has written or edited several other books on Mailer, including the award-winning Norman Mailer: Works and Days (2000).
LOVING MAILER'S WORK
So why does the alumnus Lennon love Mailer's work so much?
"He was a fearless writer who would tackle anything—the women's movement, Marilyn Monroe, JFK, Hollywood, Apollo 11, prize fights, about Alaska, about cities… There's not another writer like him today… There may never be another writer like him again. We had Hemingway, Mark Twain and Norman Mailer."

To see a video of Lennon discussing Mailer, visit here. For more on Lennon, visit his website www.jmichaellennon.com.