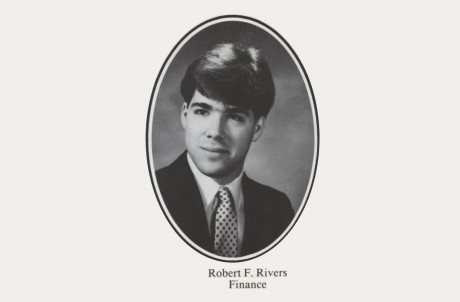 During his senior year at Stonehill, a then 21-year old finance major was asked to develop a "business plan" for his life after college as part of his coursework. The idea was to aim high and he did--setting a goal of becoming the president of the largest bank headquartered in Boston by the time he was 40 years of age.
"I had no reason to think it was possible," he says thinking back on the assignment. But, in fact, it did, when in 2007, Robert Rivers '86 was named President of Eastern Bank, the largest independent, mutually owned bank in New England with more than 80 branches and headquartered in Boston's Financial District.
Given that Rivers came from a working-class family with no ties to the world of banking, taking the helm of such an historic bank, founded in 1818, was a considerable professional accomplishment.
A trustee at Stonehill since 2011, he credits not just his course work in financing and accounting at Stonehill, but also that assignment he received from Business Administration Professor William Burke in his senior year as key steps towards a career he is so passionate about.
"We outlined an ultimate goal and the steps necessary to achieve it. The idea was to aim high, for something seemingly unreachable, with the thought that if we fell short, we'd still end up further ahead than if we had established what we would consider to be a more reasonable target," says Rivers.
"I grew up in a working class family in Stoughton. I was only able to attend Stonehill by the grace of a three quarter scholarship, which allowed me to earn just enough through part-time jobs to pay the difference. I was about to become just the second person in my family to graduate from college," notes Rivers who has established a scholarship at Stonehill that benefits a student from Stoughton who has financial need.
Not only did no one in his family have banking experience or connections, but the Bank of Boston rejected him for its training program. By virtue of being a teller at his hometown bank, however, he was already in banking, liked it and had mentors at the College who challenged and encouraged him.
"In more ways that I had ever dreamed, I achieved the outlandish business goal I had written down over 20 years before – and this journey all began because of my experience at Stonehill College," he explains.
From 1991 to 2005, Rivers held a number of both staff and line leadership positions at M&T Bank, headquartered in Buffalo, New York. Previously, he was the Regional Sales Manager for M&T's 170-branch franchise across Pennsylvania, Maryland, and West Virginia. Prior to joining Eastern Bank, Rivers was Executive Vice President for Retail Banking at the former Commercial Federal Bank in Omaha, Nebraska.
Last year, The Boston Globe named Rivers as one of its 12 "Diversity Champions," for his commitment to diversity initiatives. He was also recently elected Chairman of the South Shore Chamber of Commerce.
Aside from serving on Stonehill's Board of Trustees, Rivers frequently returns to campus to speak with students and is actively involved in several programs, including serving on the Advisory Board for Stonehill's Sustainable Management and Measurement Institute (SUMMIT) and on the Business Administration Advisory Committee.