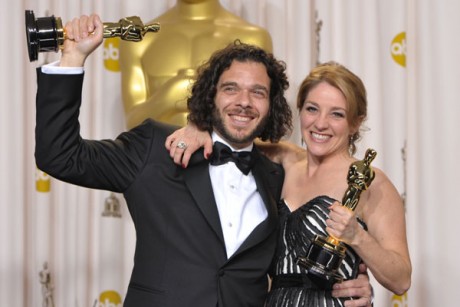 Academy Award winning director Sean Fine will visit Stonehill's Martin Institute on Wednesday, September 25th to discuss his documentary film Inocente, which won the Oscar for Best Documentary last year. His talk, organized by the Office of Intercultural Affairs, will begin at 4 p.m. All are welcome to attend.
Inocente follows the life of a 15 year old homeless girl from California who has great ambitions to be an artist. Unbroken by her situation, she refuses to let her dream of becoming an artist be caged by her life as an undocumented immigrant forced to live homeless for the last nine years of her life. Color is her personal revolution and its extraordinary sweep on her canvases creates a world that looks nothing like her own dark past.
Fine, who works alongside his wife Andrea Nix, has directed five films; including War/Dance which won the 2009 Best Documentary and Best Cinematography Emmy and was nominated for the 2008 Academy Award for Best Documentary Feature.
Currently, the two are directing HBO's Life According to Sam, a documentary feature chronicling a mother's race against time to save her only son from an extremely-rare and fatal disease that rapidly ages children. They are also directing the second episode of their sports series In The Moment, which takes an intensive look into the forces that create a champion athlete, from the athlete's own point of view. This second episode will document six-time NBA All-Star and New York Knick Amar'e Stoudemire.