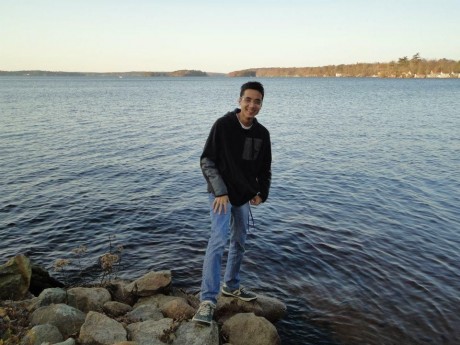 Stonehill College is committed to educating the mind and the heart and the result is a community where acts of compassion and courage abound. Whether it's an on-campus vigil, mentoring local grade schoolers or building homes in Peru, Stonehill students and alumni are engaged with the world around them and committed to making it a better place.
You see it in Kate Sullivan '12, who has dedicated a year to healthcare in Haiti's poorest communities. It's seen in Deirdre Kleist '12 as she pours her heart into helping families struggling with tragedy and injustice. And it's clearly in the passion Prithak Chowdhury '15 brings to his efforts to raise awareness of the value in our cultural differences.
"It is evident throughout our community," says Rev. James M. Lies, C.S.C., vice president of Mission at Stonehill. "There is a graciousness to our spirit that is impressive." He sees it as inextricably tied to the College's founding by the Congregation of Holy Cross. "The ethos of service – the motivation for service – is deeply rooted in the fact that we are Catholic and we are Holy Cross."
Bethany Conway '13, a student minister involved in several service organizations on campus, observes it all the time. From pulling together a last-minute vigil in the wake of the Boston Marathon bombings to simply asking if someone is all right if they appear upset in the hallway. Conway says of the Stonehill student body, "We're unique. You don't find us everywhere. We get through everything because we do it together. It's such a beautiful relationship."
It's also at the core of Stonehill's culture of caring and it leads to self-discovery and growth that lasts a lifetime.
An education of the mind and the heart
Katherine Sullivan '11
MAJOR: Biology
HOMETOWN: Kensington, N.H.
CURRENT: Conducting lymphatic filariasis research with The Haiti Program
Stonehill Biology major Kate Sullivan's excellent grades, lab experience and faculty recommendations gave her a ticket to go anywhere. She chose Haiti.
Initially Sullivan thought she would do a year of service in Mozambique or Rwanda through United Planet, focusing on HIV/AIDS research. But a chance encounter with then Stonehill President Mark Cregan, C.S.C. '78, put another opportunity in her path. Sullivan ended up joining The Haiti Program on Cregan's suggestion, working on the island nation to eradicate a mosquito-borne disease that has long plagued its poorest regions.
The opportunity combined Sullivan's passion for social justice and science, passions that she credits Stonehill with helping her develop. Sullivan's love for community service grew through volunteering for the Big Brother/Big Sister program and My Brother's Keeper, a local group that gets food and furniture to families in need. Her love of science grew through her positive experience with Stonehill's Biology program. "The professors and the attention that is paid to each student is amazing," she says. "They kicked our butts in the class but at the same time were very invested."
She singles out Biology Professor Magdalena Pederson, who at times would stay late into the night helping students as they studied complex biochemistry processes.
Sullivan sees her own interest in social justice and Pederson's commitment to students as manifestations of the College's grounding in Catholic educational values, which encourage helping others to be the best they can be. "It's an incredible community," she says. "I couldn't have asked for anything better."
Sullivan said her experience in Haiti has only served to solidify her commitment to science and social justice. She next plans to pursue an MD/PhD degree and then launch into a career researching underfunded infectious diseases. But she says Haiti will always be part of her world.
"I think your first year out of (college) you change a lot, regardless. But Haiti? I couldn't even start to tell you how it's changed me. I am so thankful that everything worked out this way."
A potent combination of caring and outrage
Deirdre Kleist '12
MAJOR: Early Childhood Education/Catholic Studies
HOMETOWN: Meriden, Conn.
CURRENT: Finishing year of service in Chicago, beginning University of Notre Dame's master of divinity program in the fall
Stonehill alumna Deirdre Kleist's secret to survival during her post-graduate year of service might surprise those who have met the warm-hearted Meriden, Conn., native.
"You've got to stay outraged," she says.
At Cabrini Green Legal Aid, a practice that serves low-income Chicago residents, Kleist hears stories of injustice and struggle every day. Although she can't help every person she encounters, she is committed to working for greater social change. "I can get behind campaigns, legislation and programs that work to change the social injustices that cause the many issues our clients face."
Her passion for social justice can be traced to her experiences with Stonehill's Office of Campus Ministry. While a student, Kleist joined many of the office's activities—as a choir member, lector and student minister, among others—and valued the inclusive culture. "The opportunities to practice worship, to volunteer and serve, or participate in really any facet of the work of that office are available to all students."
She joined in and eventually led H.O.P.E. alternative spring break trips, helping distressed populations in New York City, Nicaragua, West Virginia and Arizona. In addition, she applied her critical thinking and Spanish language skills as a Spanish teaching assistant for three years.
For Kleist, who graduated with degrees in Early Childhood Education and Catholic Studies, her love of teaching and ministry will soon take her to the University of Notre Dame, where she will be pursue a master's of divinity degree.
She credits the life lessons she learned from faculty mentors, such as Stonehill Professor Richard Gribble, C.S.C., for her motivation to achieve. "Father Gribble was always pushing me to get outside my comfort zone," says Kleist. "He would tell me I shouldn't be afraid of sharing my ideas. He gave me the confidence to succeed."
International student uses his journey to teach others
Prithak Chowdhury '15
MAJOR: Communication, English minor
HOMETOWN: Agartala, India
Stonehill student Prithak Chowdhury's passion for helping others find value in cultural differences stems largely from his own journey.
A member of the Class of 2015 majoring in Communications, Chowdhury was 7,700 miles away when Stonehill came on his radar. The College has an extension program in his hometown of Agartala, India. There, Stonehill students teach in his former school, the Holy Cross School, and some of the school's students have an opportunity to come to Stonehill. Chowdhury got his opportunity in 2011. "At first I was scared," he remembers. "Not many people looked like me. Not many people spoke the language I did." But he soon realized that in an inclusive and welcoming environment like he found at Stonehill, those differences could be a valuable tool.
Chowdhury quickly put his passion for increasing cultural awareness to work in the Office of Intercultural Affairs and became active in ALANA-A Brothers and Sisters Leadership Program, a resource for students of color, international students and diversity allies. He has taught a Multicultural Encounters class through a pilot program called IDEAS (Integrating Democratic Education at Stonehill).
As he grew increasingly comfortable in his new surroundings, Chowdury began to explore service opportunities, doing service work in Arizona and El Salvador as part of the H.O.P.E. alternative spring break program and volunteering at My Brother's Keeper through Into The Streets, Stonehill's community outreach program.
The support he has received, along with the hardships he has seen through his service, remind Chowdury of how blessed he is and solidified his determination to "pay it back" so as to give others "the opportunity to achieve." Although a Hindu, Chowdhury said much of the inspiration for his commitment to service comes from a distinctly Christian source: Jesus. "His message … it's about love. It's about reaching out to the people. It is about creating change. I don't think I need to be a Christian to take to that message."
Chowdhury plans to return to India and hopes to continue giving back. "What matters is to not just say, 'OK, I'm going to graduate from college and get a job and be done with it.' I need to be doing what I'm passionate about."