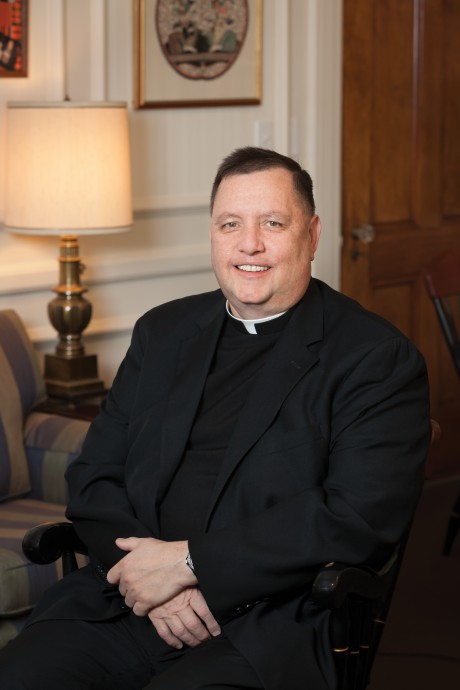 The 53rd Annual President's Dinner at Stonehill, which welcomes nearly 700 friends, neighbors and alumni each year, will be held on Thursday, May 30 with proceeds going to the College's $7 million fundraising campaign in support of a three-story expansion to the Sports Complex. This year's dinner will again stress the importance of fitness for life and what the College needs to do to ensure that its students have the appropriate facilities for athletics, health, fitness and exercise.
Stonehill plans to add 50,000 square feet to the Sports Complex in order to provide needed space for athletics, health, fitness and exercise. When the Sports Complex opened in 1988, it was designed to serve 1,930 students. Today, 25 years later, it is serving 2,500 students. What's more, student participation in club and intramural sports has skyrocketed, which means the Sports Complex is now hard pressed for space and in need of an upgrade.
President Mark T. Cregan, C.S.C. '78, honorary chairman of the event, will present the President's Award for Excellence to members of the Ron Burton Family. One of Stonehill's highest honors, the President's Award for Excellence is presented to individuals and organizations that have made unique and outstanding contributions to public life, business, and to the arts and sciences.
Over the past 24 years, the Ron Burton Training Village (RBTV) has served more than 3,000 youth in their spiritual, physical and educational growth. RBTV holds free summer camps for disadvantaged inner-city youths and a 5-week sports camp program for young men aged 11 to 18 every summer in Hubbardston, Massachusetts.
RBTV has four core values: Love, Peace, Patience and Humility. The camp's philosophy is to inspire the consideration of others before yourself and motivate an understanding that faith and morals need to be the foundation of the mentality through which they approach life. The camp was founded by the late Ron Burton, Sr. in 1985. Shortly before his passing in 2003, Burton received an Honorary Doctor of Humanities degree from Stonehill (pictured left).
Stonehill is one of three colleges which offer two full scholarships to RBTV campers who have completed six years of growth and commitment through the program.
This year's President Dinner will also celebrate Fr. Cregan's successful tenure as Stonehill's President. Fr. Cregan will be stepping down as the College's leader at the end of June. In 13 years of service, Fr. Cregan has led Stonehill to unprecedented growth.
Since 1961, the President's Dinner has honored educational service, community leadership and local partnerships. This year's dinner will begin with a reception at 6:00 p.m., followed by dinner at 7:30 p.m.
For further information on the President's Dinner and Reception, please call Julie Coleman in the Office of Advancement at 508-565-1344 or email her at juliec@stonehill.edu. The President's Dinner is an invitation only event.