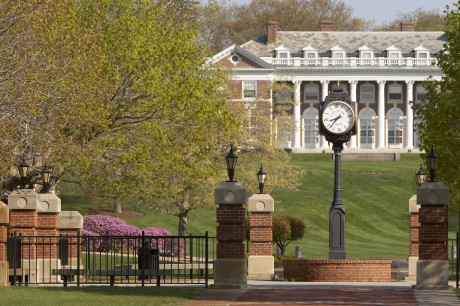 Cupcake Chemistry: Seeking innovative ways to foster student engagement, Hailey Chalhoub '13 and Sociology Professor Chris Wetzel launched a program this semester called IDEAS (Integrating Democratic Education at Stonehill), which allows students to share their ideas and passions with their peers in unique one-credit courses designed by the students. Taught by students, the courses range from the natural sciences to the humanities to the social sciences. Courses included "Chemistry of the Cupcake," "Nerd Culture, and "I Am Because You Are."
Tractor Power: In its third year, The Farm now has its own tractor, which will allow for better field management, especially in promoting soil health and plant productivity. And, that means we can provide even more fresh produce to our neighbors in need. In fact, Farm Manager Bridget Meigs is aiming to donate at least 12,000 pounds of produce this year to our community partners: My Brother's Keeper, the Easton Food Pantry, The Table at Fr. Bill's & MainSpring in Brockton, and the Family Center at the Old Colony YMCA in Brockton.
Alumni Minister: We welcome the Rev. Anthony Szakaly, C.S.C. who is the College's new Alumni Minister. Fr. Tony, as he likes to be called, will also minister to our student-athletes and staff. Since July, he has been based at Stonehill serving as the Local Superior of the Holy Cross priests and brothers. Fr. Tony holds three degrees from the University of Notre Dame and is also Board Chair for Ave Maria Press, the publishing company that the Congregation runs at Notre Dame. On campus, he will split his time between the Alumni Affairs Office and Athletics Department.
Lives Touched: Recently, 60 students and 100 benefactors sat down for dinner in Alumni Hall. It's an annual event that connects benefactors with our students who benefit from their philanthropy. At the dinner, students hear first-hand from our alumni and friends on why they value and support student scholarships. At the same time, benefactors hear from students directly about their classes, internships, study abroad experiences, and their career goals. As students and benefactors get to know each other, often over several years of these dinners, key relationships are formed and nurtured.
Clark Challenge: Trustee James Clark '76 is so passionate about expanding the Sports Complex that he issued a $250,000 challenge. That means, for every dollar alumni contribute to the Sports Complex Expansion by May 31, Clark will match it dollar for dollar up to $250,000. So far, 467 alumni have contributed $102,638. We have 25 days to raise the rest.
Uber Media: In demand for his political analysis, Martin Institute Director Peter Ubertaccio recently spoke to Meghna Chakrabarti of WBUR's Radio Boston about the City's mayoral race.
An App for That: In his senior year, to help prevent repetitive stress injuries, computer science major Doug Bodkin '13 designed a mobile app for iOS platforms that reminds kids to take breaks and stretch periodically while using their iPads and iPhones. His "Stretch Breaks for Kids" app tied for second place in a recent undergraduate research & poster competition. Free from the iTunes App Store, it has been downloaded 1300 times worldwide and soon it will be available in many languages from Chinese to Arabic. After graduation, Bodkin will start working for the Boston start-up Digital Results Group.
Student Success: In 24 lively pages, this year's Stonehill Student Success publication captures student research, presentations, inductions, creative projects, honors, and awards. For a copy, call Paula Lutton in the Office of Academic Affairs at 508-565-1840 or email her at plutton@stonehill.edu.