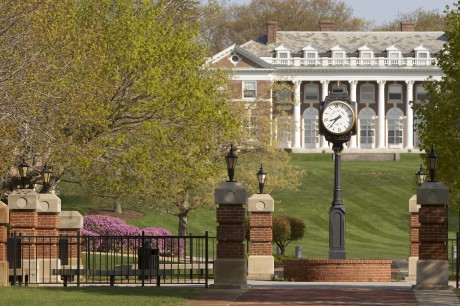 Commencement: The chief executive officer of Avon Products, Sheri McCoy, who is also a director of the company, will deliver the keynote address at Commencement on Sunday, May 19. A Stonehill Trustee, McCoy joined Avon after a distinguished 30-year career at Johnson & Johnson. Receiving honorary degrees with McCoy will be Northeast Utilities CEO Thomas May '69, who also chairs the College's Board of Trustees, and his wife Donna (Jermyn) May '70 as well as the President of our sister school, St. Edward's University, Dr. George Martin. The student address will be delivered by Frances Walsh '13.
Book Exchange: By day, Osasumwen Igbinedion '13 worked a full time internship with MGM Studios in Los Angeles this semester, assisting on projects like the launch of MGM's popular new series Vikings. Away from MGM, however, the Communication major put her entrepreneurial energies into creating a networking site where students can find users on campus looking to buy and sell textbooks. Frustrated by the number of listserv messages she receives at the start and end of every school year- from students trying to unload their textbooks and those seeking new ones- Igbinedion developed a networking platform that lets students buy and sell textbooks cheaper, faster and more conveniently. It also allows them to meet on campus to finalize sales, cutting delivery and third-person costs. Eager to study branding and integrated communication, Igbinedion plans to go on to graduate school.

Seamless Transition: In recent years, a small number of Indian students, graduates of Holy Cross schools in Agartala in northeast India, have been attending Stonehill. To get to Easton, they travel over 7,500 miles and undergo a major cultural transition. Summit writer Tim Culverhouse '14 interviewed one such student Parijat Bhattacharjee '16 to find out about her first-year experience at Stonehill.

The World is Their Stage: The tickets for DiverCity 2013, an evening of global culture as performed by students, were sold out well in advance. A "must see" event, the concert delivered on the buzz yet again this year. The performers took the audience on a whirlwind tour of world culture, featuring, salsa, Bollywood, Irish step dancing and more.

Gift Giving: The Class of 2013 has raised $5,000+ for their class gift and secured pledges from another 60 students, according to Senior Class President Lindsey Beauregard, who is also Co-Chair of the 2013 Legacy Committee. To the 200 students who made Senior Night in Brother Mike's such a success, we say Thank You.
Boston Strong: Thanks to the initiative of Resident Assistant Vanessa Egan '13 and Assistant Director of Residence Life Kelly Treseler, Stonehill showed solidarity with the City of Boston as over 100 community members participated Friday in a memorial and recovery walk from New Hall to the Shields Science Center. In addition to the walk, the organizers helped to raise funds for the One Fund through the sale of specially designed wristbands. The Athletic Department also pitched in by selling distinctive "Boston Strong" t-shirts, with support from Champions Choice, the College's uniform and athletic gear supplier.

SAM: If you did not get a print copy of the new Stonehill Alumni Magazine or would like one, contact Martin McGovern at mmcgovern@stonehill.edu or at extension 1070.