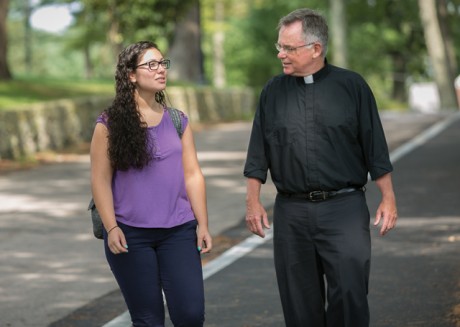 Rev. John Denning, of the Congregation of Holy Cross, the newly inaugurated head of Stonehill, the college his order founded in North Easton in 1948, hardly needed an introduction to the campus when he took office two months ago as the institution's 10th president. Friends say his appointment was the completion of divine order for a priest who had spent the previous 13 years at Stonehill building spiritual and cultural bridges in positions ranging from Director of Campus Ministry, to Vice President for Mission, to Vice President of Student Affairs.
A second-generation Irish American with paternal and maternal family roots in Cos. Louth and Westmeath, respectively, Fr. Denning has come full circle at the distinguished Catholic liberal arts college where he has come to be widely known as "the students' president." Reports Pauline Dobrowski, Stonehill's vice president for student affairs, on the new president's welcome: "People were just elated. "There was a celebratory feeling."
In a recent interview with the Boston Irish Reporter in his snug office overlooking a stately red-brick Georgian campus, Fr. Denning said that he seeks to reinforce Stonehill as "a place of learning where the lives of students are changed in positive ways, and where they become agents of their own learning. I want to give our students the education they deserve and the tools to survive. I want our students to ask the question, and never stop seeking the truth of "where is God, and how does the Lord play a role in my life?"
"As president," he added, "my primary responsibility is to ensure that we thrive as a community of scholarship and faith. To succeed in doing so requires an openness to reaching out to others for support, advice, fresh ideas, feedback, and ongoing but civil debate."
In imparting sound advice, his predecessor, Rev. Mark Cregan, counseled him to have fun always in what he did, and when making decisions to "go with your heart and gut." Fr. Denning continues to lead with his heart, as he has done throughout his priesthood in keeping with his expansive vision of what Stonehill College should be. His protocol is grounded in the confidence of everlasting faith, one of humility and quiet service and welcome to others, as witnessed during his first days in the President's Office when he casually approached a table in Roche Dining Commons to greet a group of incoming students.

"Of course, they had no idea who I was," he later told Stonehill Alumni Magazine. "But to me, it was important to extend a sense of welcome – and a hope that these students flourish here academically, morally, and spiritually. … To be part of that is something I treasure."
The 54-year-old Holy Cross father has a populist role model in Francis I, the new pontiff whose namesake proclaimed generations ago in Assisi, "Preach the Gospel at all times, and when necessary use words." Fr. Denning is a man of few words, opting instead to lead with actions that for him speak far louder.
Growing up in East Providence, he learned the art of listening and serving from his parents. His late father Ed was a church architect who blended the traditional with the modern to incorporate stunning windows of light. He designed St. Brendan's in Riverside, R.I., St. Mary's in Mansfield, and St. Barnabas in Portsmouth, RI, among other churches.
The father's architectural style is much like the son's pastoral style, a blend of old and new that brings in light. Fr. Denning's late mother Mary (Burns) was a homemaker, dutifully raising two boys and two girls in a middle class Irish/Portuguese neighborhood outside Providence. "My folks," he says, "were big on education, stretching the mind and the body as far as they would go."
In high school, the young John Denning ran track and cross country at LaSalle Academy in Providence. He was a good student. In his early years, he played neighborhood street hockey, and worked hours scooping double cones at Scotty's Ice Cream and manning the fryolators at Chicken City. "I'm still trying to get the grease smell out of my hands," he says.
The priesthood at the time was not on the radar screen, but the Lord, as we know, works in mysterious ways. Fr. Denning's come-to-Jesus moment was slow, yet deliberate, in arriving. He wasn't knocked off a horse. "No one ever put pressure on me," he adds. After high school, he attended Tulane University in New Orleans as a European history major, ran some track casually, and joined Zeta Psi fraternity, which strives to be the premier international men's fraternal organization dedicated to academic excellence and life-long bonds of brotherhood.
During his senior year, when some of his colleagues might have been considering a visit to church to seek redemption after four years of late nights, Fr. Denning accepted an invitation to meet with the Holy Cross Fathers who lived a block from campus. In short order, he heard and accepted the larger call to the priestly life.
"What appealed to me about the priesthood," he says today, "was a sense of purpose and mission, a higher quest in the Lord." At first, he assumed a life in the church of pastoral administration, but the pull of academia was tauntingly invigorating.
After graduating from Tulane in 1981 with a bachelor of arts degree, he studied theology at the University of Notre Dame, another Holy Cross Fathers institution, then earned a masters of divinity at University of St. Michael's College in the University of Toronto.

His first assignment after ordination was as a parochial vicar at Holy Cross Church in Easton, not far from Stonehill. He then became director of Vocations for the Congregation of Holy Cross, followed by an assignment to teach, coach, and serve a chaplain at Coyle and Cassidy High School in Taunton, and, later, the position of campus minister of the Catholic Center at Bridgewater State College.
In 2000, he began his long career at Stonehill. As Director of Campus Ministry, he expanded local and international service opportunities, including a three-week international trip to work with members of the Congregation order in Peru, and provided pastoral care throughout the Stonehill community. As Vice President for Mission, he developed orientation programs, managed budgets, developed strategic plans, and established the Office of Community Service and Volunteerism.

As Vice President for Student Affairs, a post he held for about six years, and as a member of the President's cabinet, he helped coordinate the departments of Community Standards, Counseling and Testing, Health Services, Intercollegiate Athletics, Intercultural Affairs, Recreational and Sports Clubs, Residence Life, and Student Activities. Given this full-circle progression to the president's office, to say that Fr. Denning is from central casting is to say that Pope Francis looks good in white.
Aside to Stonehill trivia buffs, per Stonehill Alumni Magazine, the last book the eclectic Fr. Denning read was "A Generation Divided; the New Left, the New Right, and the 1960s"; the last concert he attended was one of Bruce Springsteen's at the old Boston Garden; his favorite food is pasta with white sauce and littleneck clams; and his favorite ice cream is black raspberry. The image of Fr. John Denning at a Bruce Springsteen concert is not a stretch for those who know him. Clearly, now he's "The Boss" at Stonehill.
Still, he remains accommodating and approachable. The walls of his office, with photos of teachers, students, parents, and celebrity types, are testament to this. Asked about his favorite passage from scripture, Fr. Denning doesn't hesitate in response. "Hebrews 13:3," he said, reciting from memory: "Do not neglect to show hospitality to strangers, for by this, some have unwittingly entertained angels."