Stonehill utilizes our Hill Alert emergency notification system to quickly and efficiently send community members a text message to their cell phone in case of an emergency on campus.
Community members with text enabled cell phones should provide their cell phone number with their permanent/legal address to participate in the Hill Alert system.
Provide your cell phone number
To setup Hill Alerts to be sent to your phone, you must login to myHill and provide your cell phone number.
Updating Addresses & Phone Numbers
Follow the instructions below to review and update your home address and phone numbers to receive Hill Alerts.
Login to myHill
| Students | Employees |
| --- | --- |
| Select the myAcademics tab. | Select the Employee Services tab. |
| Click on the Update/View Address and Phones link under the Personal Information channel. | Click on the Update Address and Phones link under the Personal Information channel. |
The addresses and phones in your record in the Banner Human Resources system will be displayed as shown below.

Click Current under the Permanent/Legal address type to change your home address or one of your personal phone numbers. The Update Address and Phones page is displayed as follows: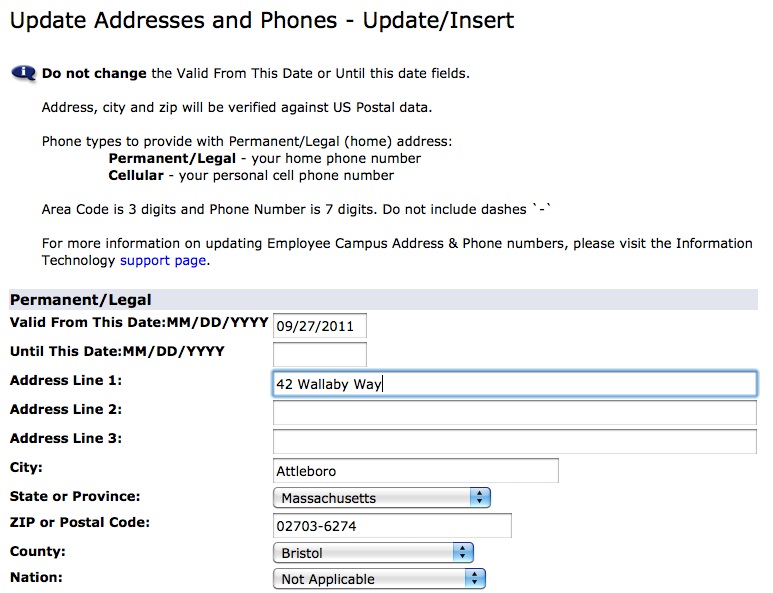 Please do not change the dates in the "Valid From" and "Until This Date" fields.
You may update your address by typing over your existing address and click Submit when done.
Scroll down to display the area where you enter your phone number(s).
The home phone should be entered into the Primary Phone Number For This Address fields. Enter the area code for your home under the Area code followed by the number under Phone Number. Do not include any dashes (-) or special characters in the phone number.
In the first field under Phone Type, select "Cellular" from the drop down menu and enter your cell phone area code and phone number into the corresponding fields.
The Cellular phone type is used as your request to receive text message alerts to your cell phone using the Hill Alert system. Make sure that this is the first field under the Phone Type list to ensure you receive all Hill Alerts. Your cell phone number may also be used by the College to contact you.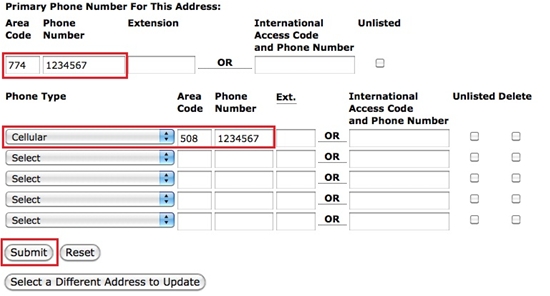 Once you have completed the changes, just click on the Submit button at the bottom of the page.
You'll be brought back to the Update Addresses and Phones page, at which point you can continue to modify another address type, navigate back to the myAcademics tab (students) or the Employee Services tab (Employees), or logout of myHill.
If you require assistance or have any questions, please contact the IT Service Desk.