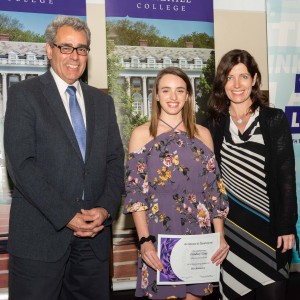 Lindsey Gray '19 has been award the Biochemistry Program's 2019 Student of the Year Award.
The Florida, Massachusetts, native was also a Goldwater Scholarship nominee. Gray researched biochemistry as part of the Student Undergraduate Research Experience (SURE) Program during the summer of 2017. During the spring 2019 semester, Gray wrote and defended her research on the genetic analysis of the M13 bacteriophage series. She also worked as a peer-led team learning leader for organic chemistry, student ambassador for Lux et Spes, a teaching assistant for biology as well as a medical scribe. She also served as president of the Chemistry/Biochemistry Club for two years.
"At Stonehill, I developed strong communication skills while teaching and tutoring other students as well as while performing independent research," said Gray. "I learned it is simply not enough to follow direction, much of the time you have to give yourself direction and plan ahead. Stonehill has taught me that to change the things you want to change, you need to go above and beyond and stand apart from the crowd."
Gray will work as chief medical scribe at Brigham and Women's Hospital and plans to apply to medical school in the future.