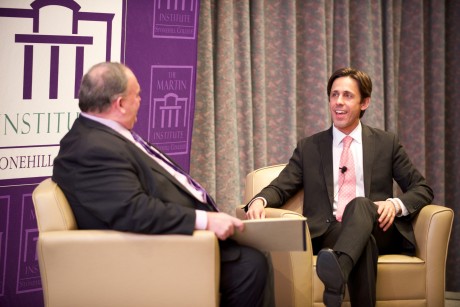 White House advisor David Simas '92 didn't start off his collegiate career at Stonehill. The Taunton native began his freshman year of college at Northeastern University in Boston before transferring to Stonehill. For him, Northeastern was too big..
"It's a fine school, it does a great job, but it was hard not to fall in love with Stonehill," Simas said when he returned to the College recently to discuss his high profile career in the White House and how he got there.
For Simas, much has changed since he graduated in 1992. Earlier this year, President Barack Obama appointed him to a new role as his director of Political Strategy and Outreach, a journey that he traces back to his roots in Taunton.
The son of Portuguese immigrants, Simas grew up in a family soaked in politics and the art of political discussion. At the age of 23, Simas, a political science major, was elected to the Taunton School Board, and then the City Council. In 2004 he served as an aide to Taunton Mayor Bob Nunes, and in 2006 worked alongside Massachusetts Governor Deval Patrick as his deputy chief of staff.
For Stonehill too, much has changed since 1992.
"It looked like a very different place until I drove by the main building up on the hill," Simas said of Donahue Hall.
But even after 22 years, Simas said, the College's sense of community remains the same. At the presentation, Simas, who was joined in the Martin Institute by his parents, gave a shout out to former Admissions Director Brian Murphy '68 who accepted him as a transfer student and was at the event.
During his undergraduate pursuit at Stonehill, Simas discovered a professor who was both instructor and mentor. That was Professor of Political Science and pre-law advisor Charles Serns.
He was "tough, but whimsical all at the same time," Simas said, "and he brought politics to life. He was exciting and inspirational. You were drawn in by his stories."
"To this day I think of Charlie and his class," he said because as a top political communicator he believes strongly in the power of personal stories to shape politics and policies.
-Olivia Schneider '15