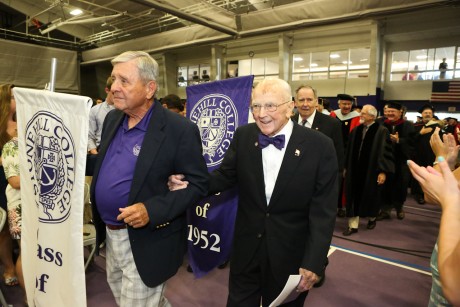 As they processed into the Sports Complex at the Presidential Inauguration Ceremony last week, alumni representing every graduating class in the College's history were greeted with applause by current students, one of several special moments that day.
When they saw one alum proudly walking alongside his classmate (John Kelleher) with the Class of 1953 banner, the students applause grew even louder. What stood out about that alum in particular? His stylish tuxedo and beaming smile. Afterwards, many students wanted to know more about the sharply dressed man who walked with such determination and pride.
His name is Neil Roche- a member of Stonehill's second graduating class of 1953. Among the first Stonehill graduates to be admitted to the Massachusetts Bar, Roche has been practicing law for more than five decades. After graduating from Boston College Law School, he served as an active duty Army JAG Officer and remained active in the Army Reserves for 30 years.
His legacy is the seven children that he and his wife, Joanne, raised. His daughter, Kathleen, graduated from Stonehill in 1988. As a commuting student, he thumbed his way to and from Foxborough. In June, he attended his 60th Reunion.