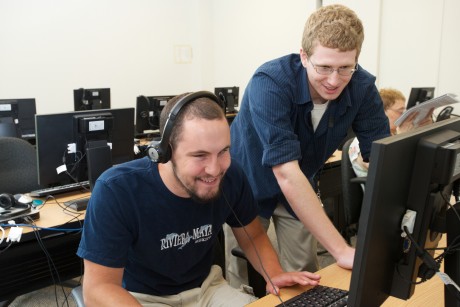 19,500 lines of coding. 900 hours of work. 220 pages of written documentation. That's the amount of work seven computer science majors and two interdisciplinary studies majors concentrating in technology logged this past semester in designing a software program for Perkins School for the Blind based in Watertown.
The idea for this software project stems from an ongoing conversation between Stonehill Computer Science Professor Bob Dugan and Tara Murphy, a family friend, who is the student database coordinator at Perkins. Dugan and Murphy wanted to collaborate on a Senior Capstone Project where Stonehill students could design a software program for visually impaired students at Perkins.
Last fall, the perfect opportunity finally arose. Perkins was in need of a time tracking system for its student work-study program that would be accessible to its students and staff who are visually impaired.
"It dawned on me that the development of an accessible replacement would be extremely helpful to Perkins and meeting the requirements for accessibility would provide a new and challenging project for Stonehill's computer science students as well," says Murphy.
"Most Friday and Saturday nights at around midnight we would all be on Skype talking to each other about the project," recalls team project manager Brendan Buono '13. "Professor Dugan helped us learn how to plan for the project so we went through each phase and set goals for ourselves every week."
Real World Experience
Buono says the experience was invaluable in that it provided him and his classmates with the real world, hands-on experience that employers demand.
"I got to be a part of every single step that goes into designing a program before ever even entering the work force now as I begin my job, I'm going to have an idea how all the different steps work and have that experience when I begin my first project as a professional," notes Buono, who recently began his job as a software engineer at General Dynamics.
Dugan notes that all nine of the students have received job offers in the computer science field.
"It was one of the first times I could utilize all of the computer science knowledge I gained over the past four years and work on a real software project for a real client," says Doug Bodkins '13, who was a developer on the project. He now works as a software engineer for the Digital Results Group.
Karen McCormack, who serves as Perkins Job Developer, says jTrack will be equally beneficial to its students. "It's exciting because it offers an opportunity for students to acquire knowledge and gain experience in an important facet of the world of work- filling out a time sheet."
McCormack works with Perkins educational teams to develop work placements for their students both on campus and in the community. Over 80 Perkins students participate in a work experience or a community service project at over 40 locations throughout the Watertown area where they focus on skills necessary to be successful and increase their independence.
Implementation
This summer rising junior Matt Plummer is interning at Perkins to help implement the system. His work includes transferring the program to the Perkins server, fixing potential bugs, and adding new features Perkins may request. To help ensure the program's accessibility, Plummer is collaborating with another intern, Cory Kadlik, a recent Perkins graduate, who is visually impaired.
"When I first entered Stonehill, I had never done any sort of computer programming before and the things I've been able to learn these past two years has been incredible. Working on this project this summer has been a great practical experience for me and I'm learning so much," says Plummer, who is a part of Stonehill's 3+2 Engineering Dual-Degree program with Notre Dame.
Meeting the Challenge
Aside from a tight deadline, designing the user interface to be seamless for people who are visually impaired was the greatest challenge the group faced. The students used screen readers throughout the design phase of the project to ensure the end product would be fully accessible.
"We had to carefully consider every component we added to the application, including forms, navigation, tables and even titles," says Bodkin.
Bodkins says the most rewarding part of the project was when the group went to Perkins School for the Blind to present jTrack and Jim Denham, its Director of Assistive Technology for Educational Programs, who is blind, gave a flawless demonstration of the program.
"It was absolutely incredible to see in-person and it gave our team validation that we were able to meet Perkins needs."
Making a Difference
Murphy, who worked closely with the Stonehill students, says their dedication to the project was clear.
"They were eager to explore the accessibility functionality of the project and their attention to what we asked, plus the inclusion of tools that we never imagined was great. We asked for a scoop of vanilla ice cream and they gave us a hot fudge sundae."
"I'm so grateful to Bob, Matt and the 2013 seniors for all their efforts. jTrack is poised to make a great difference in the way we work with student pay on campus and give our students a much more realistic tool when tracking their hours/pay," Murphy adds.
As graduates of Stonehill, Buono notes "we don't want to just work somewhere. We want to be doing something that matters and makes a difference. This was a great first step towards that notion."