The Natural Resources Trust (NRT) of Easton has awarded Stonehill's Environmental Sciences & Studies Program with its Elise Ames Parker Friend of Conservation Award, which honors an individual or group that has made significant contributions to the support of conservation.
"We thoroughly enjoy the students and staff from Stonehill that we work with. We recognize that your hard work helps to educate the next generation of environmental pioneers who will work on the most difficult global problems science has ever known," said NRT's Executive Director Jennifer Cummings in a letter to the College.
Stonehill's Environmental Sciences & Studies Program, led by Professor Susan Mooney, has long maintained close ties with The Natural Resources Trust of Easton, which promotes a land ethic and an appreciation of the natural world in the community through educational programming.
From hosting interns and classes from the College to several Stonehill faculty and administrators serving on NRT's Board of Directors, the NRT and Stonehill have a storied partnership.
"Many courses in Environmental Studies and other disciplines use the NRT land in teaching, including Environmental Ethics, Nature Writing, The Nature of Art, Environmental Botany, Environmental Law, to name just a few," notes Mooney.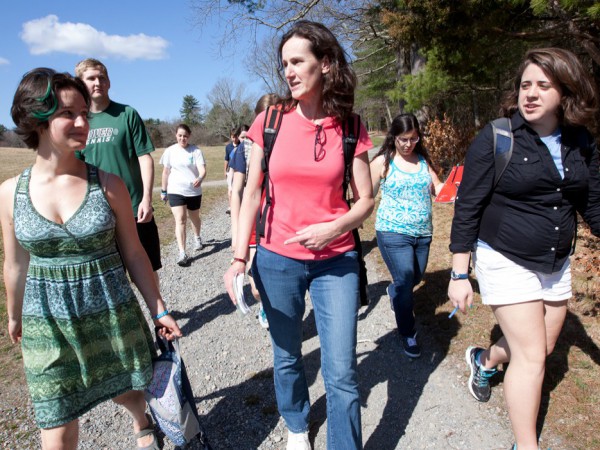 Six students have completed senior capstone internships at the NRT since 2007. Currently two students from the Class of 2016, Pierce Cumpstone and Kimberly Wolohojian, are interning at the NRT as well. Projects have ranged from curriculum design to wildlife tracking, public education to bat habitat research.
The award will be presented to Mooney (left, center), Nick Wilder '14 Corina Mier y Teran '16 and Kimberly Wolohojian '16, representing the Environmental Sciences & Studies Program, at NRT's annual meeting on November 15th.
In 1973, the NRT was invited by Elise Ames Parker to use her former residence, Sheep Pasture, as a 115-acre classroom for its environmental programs and the study of nature in an outdoor setting. A program of community gardens was introduced and managed and farm buildings were repaired and farm animals were acquired. In October of 1973, the third grade class from the North Easton Grammar School walked down Main Street to Sheep Pasture for its first environmental education program. That third-grade class pioneered a trail to the establishment of a new outdoor learning laboratory that continues today.
In 1979, the NRT became the owner of Sheep Pasture through Mrs. Parker's generous bequest. Twenty years later, the NRT purchased 40 additional acres that had been a part of the original estate from Mrs. Parker's grandson. That purchase increased Sheep Pasture's size to 154 acres. The NRT of Easton also holds conservation restrictions on land owned by the town or by private citizens who seek to protect the natural features of their property without giving up its ownership.